What a time for a TITSUP*: Santander down and out on pre-Bank Holiday payday
What happened? No info. *Total Inability To Support Users with the Particulars
---
Updated It's Friday at month's end just before a Bank Holiday – Pay and Bills Day – and users of Santander's UK arm have been unable to use online banking and apps since 9:49 AM BST. Thousands of companies use the bank to process UK payroll.
More than 2,000 reported having issues at publication on third-party downtime monitor DownDetector, with financial hub London the pulsating red zit on the outage map.
While some have speculated that the bank hit a snag with a systems update this morning (we've asked Santander for confirmation), very little has been said by the bank itself, aside from some "try again later" messages from its Twitter support.
Judging by its service status, you'd think nothing had happened – green boxes as far as the eye can see, with the exception of telephone banking, which was not so surprisingly "experiencing very high volumes of calls".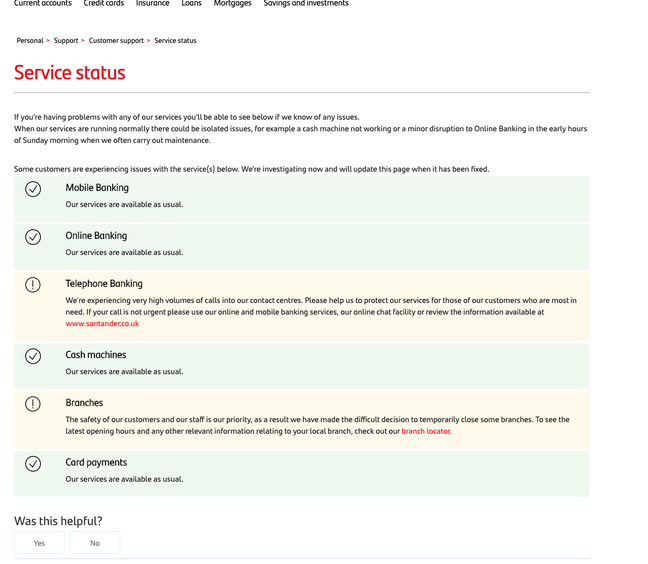 Reg readers with staff and their own bills to pay hit out at the banking giant for its lack of communication:
@santanderukhelp Cannot access the Santander website on any device it states there is a problem. I need to pay my staff and i am not getting an answer on the phone. I need this resolved ASAP. whats the issue?

— Stuart Buchanan (@Fuzzyligic) August 28, 2020
Hi, I'm having the same issue. I have staff waiting to be paid. Could you provide an update on when this will be fixed. @santanderukhelp

— Nicole (@nicolejone) August 28, 2020
Many frustrated customers called out the bank for not specifying what the heck went wrong when logins failed, with one commenting angrily: "The login error is peculiarly useless - 'It could be us. It could be you. Who can tell?' You can. You can tell, Santander. And then you can tell us."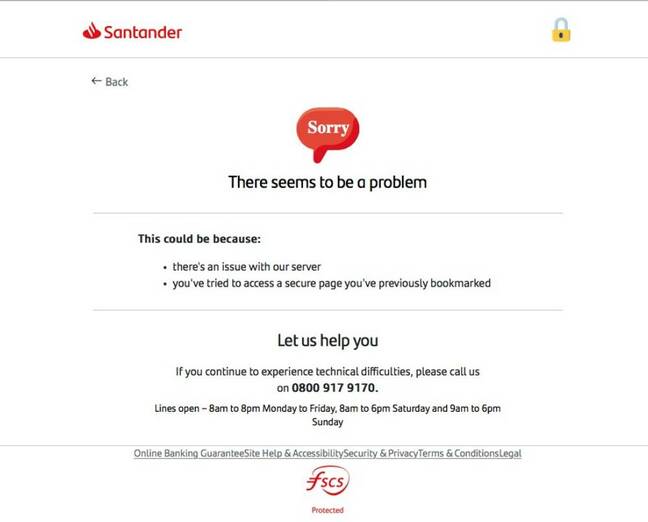 Click to enlarge
Santander's Twitter help account said it was "aware of an issue with our online banking and we're currently investigating the matter. We'd recommend trying to log back on later today."
Is that inside business hours then? We've contacted the bank's official orifice to see if we can get some information beyond "try again later."
The bank's latest financial report [PDF] said that, in the wake of the pandemic, the bank had been: "segregating teams and technological infrastructures, establishing shifts between critical employees and their back-ups, as well as increasing the capacity of systems and lines, carried out by the Technology and Operations area." ®
Updated at 15.10 BST on 28 August 2020 to add:
A spokesperson at Santander sent us a statement:
"We're aware that some customers are currently experiencing difficulties accessing our digital banking services. We are very sorry for the inconvenience this is causing and we are working hard to fix the issue.
"Debit cards, credit cards and ATMs are not affected and customers can continue to use these as normal. Our telephone lines are operational but we are experiencing extremely high volumes of calls, so we would ask that customers with non-urgent transactions call later if possible."
Santander sent this statement at 16.51 BST, 28 August 2020
"We apologise for the problems some customers faced earlier today using our digital banking services. These have now been fixed and we can confirm that any payments due today will have been processed."