VMware says 'Nike Swoosh recovery' would be faster if American users could visit their offices
But Ireland's helping with $4.9bn tax benefit from IP shift
---
VMware has posted another pandemic-defying quarter and said it would have better if its customers had been able to go to their offices, especially in the Americas.
The company posted Q2 revenue of $2.88 billion, a year-on-year increase of nine percent. Net income was $447m, a plunge from the 5.3bn from the same period last year. Worry not, VMware users and investors, that dip earned itself a footnote that explained: "During the second quarter of fiscal 2020, VMware completed an intra-group transfer of certain of its intellectual property rights to its Irish subsidiary, where its international business is headquartered. A discrete tax benefit of $4.9 billion was recorded as a deferred tax asset."
Such manoeuvres are nearly always designed to help reduce tax liabilities and, while legal, are a moral grey zone that have earned the likes of Apple an Amazon some searching questions over the years.
VMware didn't mention the Irish affair on its earnings call, preferring to emphasise the surge in subscription and SaaS revenue which hit $631 million for the quarter, a 44 percent year-over-year jump that saw it represent 22 percent of all revenue.
CEO Pat Gelsinger said the company is going through its entire portfolio with a view to considering how to turn each product into SaaS and/or a subscription service.
"We're becoming much more of a SaaS and subscription company going forward," he said. He also teased more security, artificial intelligence and machine learning offerings as likely to be announced at the virtual VMworld conference in late September. Partnerships with the security industry were mentioned.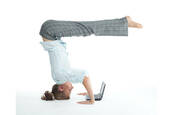 VMware 'rebalances' with layoffs that converge hyperconverged team
READ MORE
Q2 was an interesting one of the company because while SaaS helped it to grow strongly, the Americas were a hard place to do business because customers couldn't visit their offices or didn't need them. That translated into a dip in perpetual licence sales as customers like retailers that buy software to run on-prem aren't operating their stores decided they could do without things like VMware's VeloCloud SD-WAN.
Gelsinger said he thinks that kind of business will return and that VMware and the wider economy will experience what he described as a "Nike Swoosh recovery" that sees a short sharp dip and long shallow climb. The CEO said Q2 and Q3 2020 are the dip and that the climb back will start later this year. The company fared better across Europe, the Middle East, Africa, Asia and Japan.
"We're becoming much more of a SaaS and subscription company going forward" - VMware CEO Pat Gelsinger
End-user computing products continued to do well as organisations built work-from-home infrastructure. Security products did well, too. "Users have gone from 100 sites to 10,000 sites," Gelsinger said, and found they had new security needs thanks to that expansion. VSAN and NSX sales dipped, which the company blamed on difficulties implementing on-prem projects. Execs said they think that on-prem projects will come back as the recovery climbs the swoosh and that on-prem remains more-than-viable long term because businesses have come to recognise that hybrid clouds have both economic and security benefits.
CFO Zane Rowe revised revenue guidance for Q3 and the full financial year to $2.8bn and $11.6bn respectively, which represent year-on-year increases of five percent and seven percent.
Gelsinger also addressed Dell's decision to explore offloading more of its stake in VMware. The CEO was very guarded, saying that current arrangements have been good for VMware, but that being able to use stock to fund acquisitions is the kind of thing that would be nice under a different structure. ®