Smash-and-grabbed: Chinese AI academic cuffed by Feds after 'binning hard drive' amid software leak probe
Uni bod accused of destroying evidence by agents investigating possible visa fraud, transfer of 'sensitive' data to Beijing
A Chinese academic working as a university researcher in America has been charged with destroying evidence while under investigation for possible visa fraud and potentially leaking "sensitive" software and data to Beijing.
Guan Lei, 29, of Alhambra, California, was arrested on Friday afternoon. According to now-unsealed court filings, the FBI claims he deliberately took a hard drive from his Lenovo laptop that may have contained vital clues, smashed it up, and threw it in a dumpster to thwart the ongoing probe. He also allegedly hid storage devices from agents and lied he had not contacted his Chinese consulate during his two or so years in America.
As a J-1 academic visa holder, Guan had been working on machine-learning technology at the University of California, Los Angeles. He was visiting the US on an exchange program with China's National University of Defense Technology, which we note is on the US entity list due to its close ties with the Middle Kingdom's military. While stateside, Guan collaborated with a UCLA mathematics professor on algorithms that could be used to improve machine-learning performance.
"Guan used UCLA's GPU machine to complete research on deep neural networks in a pipeline fashion, otherwise described as the simultaneous use of multiple GPU machines working together to increase efficiency," FBI Special Agent Timothy Hurt said.
According to a copy of Hurt's affidavit [PDF], obtained via Courthouse News, FBI investigators began probing Guan in July for two reasons. One, he may have transferred "sensitive software or technical data" from UCLA to NUDT, which according to the Feds is bent on obtaining American know-how to "develop supercomputers with nuclear explosive applications." Two, he may have broken the rules when applying for his visa.
The FBI also claimed that, during its investigation, Guan "appears to have deliberately concealed digital storage drives from the FBI, falsely told US Customs and Border Protection officers that he never contacted the [People's Republic of China] consulate while in the United States, and, several days after refusing the FBI's request to conduct an offsite search of his laptop, walked circuitously around his apartment building, reached into his sock, and threw a destroyed hard drive into a trash dumpster nearby."
Below is what agents said they found in said dumpster.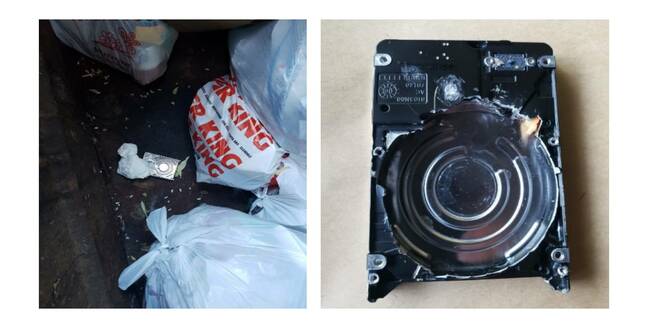 The smashed-up hard drive said to belong to Guan ... Click to enlarge. Source: Court filing
We're told that when agents paid him a visit on July 17, they were only to able to get a limited look on his laptop during the interview as Guan refused to let them take it away for analysis. The next day, the agents returned, and were allowed to look through his Google Drive account. He also claimed he had no other drives, though a subsequent search of his home uncovered various storage devices, such as a 4TB external drive and an iPad Air 2, containing his personal data.
On July 19, he was stopped by border patrol at Los Angeles International Airport from boarding a plane to China. The border cops said a number of US government agencies were interested in him, quizzed him on the electronics he was carrying and his links to NUDT, and were assured by him he hadn't contacted his consulate. Yet email records later showed he had contacted Chinese officials in LA in June and July, we're told.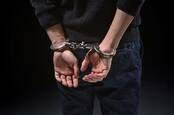 Visa fraud charges: Uncle Sam accuses four Chinese eggheads of covering up their true ties to China's military
READ MORE
Then on July 25, agents staking out Guan's apartment spotted him and the woman he was living with, who is not named in the complaint, leave the building and walk around the back, where Guan is said to have pulled out a small object and tossed it into a bin. Investigators searched the dumpster and said they found what they believe Guan had thrown out: the remains of a 2.5-inch hard disk drive from his Lenovo laptop. No data was able to be retrieved from the drive – it appeared to be pried open, and the storage platters and the control electronics removed.
Agents swooped last week, arresting Guan and hauling him into a federal district court. Thus far the only charge filed in this case relates to the destroyed hard drive. Guan's colleague at UCLA said he did not believe the Chinese academic would have had access to any proprietary intellectual property or military technology while on campus.
During interviews with the FBI, Guan was asked about Xin Wang, a San-Francisco-based medical researcher who stands accused of collecting intelligence on behalf of the Chinese military. Guan was quoted as responding: "Isn't he a soldier? I am not in the same category as him. Plus, the internet says Wang was stealing information. I am here openly, you can search my stuff."
Guan will be held behind bars until the next hearing in his case, scheduled for September 17. ®