While you lounged about all weekend Samsung fired up its biggest-ever chip factory and started cranking out 16Gb LPDDR5 DRAM
Signals imminent automotive RAM cram, but first it'll focus on premium smartmobes
Samsung has flicked the 'on' switch for a new production line at its Pyeongtaek facility and set it to work cranking out what it says is the first 16-gigabit (Gb) LPDDR5 mobile DRAM module.
The Low-Power Double Data Rate Synchronous DRAM spec allows data to move at up to 6,400 megabits per second (Mb/s) and Samsung says it's hit that speed, topping the snail's pace of 5,500Mb/s offered in 12Gb LPDDR packages.
The JEDEC Solid State Technology Association, which oversees the LPDDR5 standard, says it "introduces two new command-based operations to improve system power consumption by reducing data transmission: Data-Copy and Write-X.
"The Data-Copy command instructs the LPDDR5 device to copy data transmitted on a single I/O pin to the other I/O pins, eliminating the need to transmit data to the other pins. The Write-X command instructs the device to write all-ones or all-zeros to a specific address, eliminating the need to send data from the SoC to the LPDDR5 device. Reducing data transmission with these new commands will help reduce overall system power consumption."
Sammy reckons it's done all of that and managed to make its 16Gb package 30 percent thinner than its 12Gb predecessor.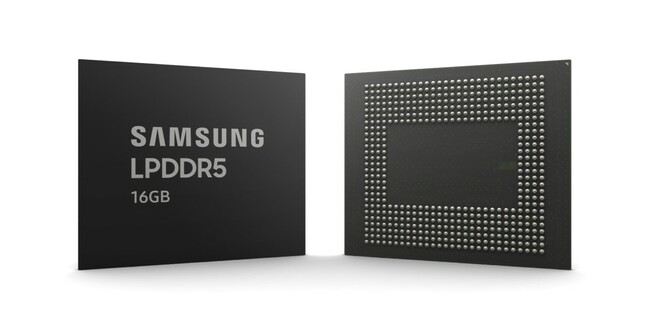 RAM, glorious RAM. Click to enlarge
The Korean giant says the first lot of this new RAM will be used to "strengthen its presence in the flagship mobile device market throughout 2021." Which suggests 16GB could become standard in next year's high-end Galaxy models, and perhaps those offered by rivals.
The company's announcement also says Samsung will "expand the use of its LPDDR5 offerings into automotive applications, offering an extended temperature range to meet strict safety and reliability standards in extreme environments."
To get it all built, Samsung is using its biggest-ever silicon-baking-barn. The new Pyeongtaek Line 2 occupies 128,900 square meters, which the company says is equivalent to about 16 soccer fields. The facility will also make DRAM, next-generation V-NAND and offer foundry services. ®