UK govt: It's time to get staff back into the office! Capita: Hey everyone... about that...
Outsourcer's employees 'would like to work in a more flexible way'
In what could be seen as a traditionally British two fingers towards the government's plea for employees to return to their places of work, UK outsourcing firm Capita appears set to close a third of its office space permanently.
The major government contractor is ending leases on almost 100 workplaces as employees' shift to home working becomes more permanent, according to the BBC. It has so far decided not to renew leases on 25 offices.
The move comes following a government push to get employees back into their pre-pandemic workplaces over concerns about the impact a significant and sustained home-working trend would have on the economies of city centres. Dame Carolyn Fairbairn, head of UK industry body CBI, has warned that commercial centres risk becoming "ghost towns" if offices don't reopen soon.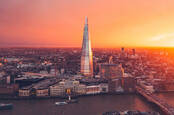 Transport for London asks Capita to fling Congestion Charge system into the cloud
READ MORE
The timing of Capita's decision could scarcely be worse for the government.
In a statement, the firm said 45,000 employees worked in offices across the UK. "Following dialogue with our employees it has become very clear that they would like to work in a more flexible way, which will involve increased working from home, but they will still spend a significant amount of their time working from offices that are based in the heart of our local communities."
Capita has had a chequered history with public sector outsourcing in the UK. In 2018 public spending watchdog the National Audit Office said the £330m Primary Care Services project to support family doctors, dentists, and opticians had failed to deliver key aspects of the end-to-end service that could have put patients "at risk of serious harm".
Yet the contractor still collects the fruit from the government's magic money tree. In August it won a £6.5m contract to hook up emergency services control rooms under the UK's troubled Emergency Services Network.
And just a few weeks back, it scored a five-year £355m contract extension – from October 2021 – from TfL for further work on the Congestion charge's digitisation plus some other, cloud-based work.
The COVID-19 pandemic has hit the outsourcer hard, though. In March it slashed £25m from planned capital spending in response to the "unprecedented situation". It also furloughed some of its workforce.
Its financials have also taken a battering. In August Capita reported a £28.5m loss in the first half of 2020 compared with a £31.2m profit for the first half of 2019. Revenue fell by 9 per cent over the same period, down to £1.652bn from £1.815bn.
"This crisis has come in a pivotal year for Capita when we had expectations of beginning to generate revenue growth and sustainable cash flow," chief exec Jon Lewis said at the time.
He has not come out unscathed. April saw a 70 per cent reduction in the number of shares he was due to be awarded as part of their annual package in 2020.
The outsourcer is not the only firm making cuts to its office space. In HPE's Q2 2020, the tech giant said office closures and mergers would help it realise up to $1bn in savings. ®