This article is more than 1 year old
Happy birthday to the Nokia 3310: 20 years ago, it seemed like almost everyone owned this legendary mobile
Possibly the first of the 'dumb' phones that didn't suck
It has been two decades since Nokia formally launched the iconic 3310 mobile phone, a device that instantly conjures nostalgia.
For a fleeting period, this chunky handset was the phone to have. Austere by today's standards, it stood out thanks to its generous collection of bundled software (like Snake) and relatively sophisticated SMS-based chat software.
And that's without mentioning the phone's durability, which inspired both mockery and exaggeration. Legend says that when the nuclear bombs fall, only the cockroaches and 3310s will survive. Though that might be (and absolutely is) completely made up, Nokia's top-selling feature phone proved capable of withstanding the occasional drop or plunge into muddy festival fields.
But while much attention is slathered on the phone's legacy, little is said of its actual launch. From the outset, the 3310 was unambiguously a consumer device, and thus the Finnish mobile giant opted to launch it at an extreme sports event called "Don't be bored. Be totally board." This time we're not making it up.
20 years of GSM digital mobile phones
READ MORE
At that point, the mobile sector was still in its infancy. A survey conducted in the US in 2000 showed that only 28.3 per cent [PDF] of people owned a cellular phone, with a further 11.1 per cent sharing a device with another household member. While cellphones were on an obvious upward trajectory, it's fair to say that the Nokia 3310 helped accelerate that trend, with around 120 million devices sold during its lifespan.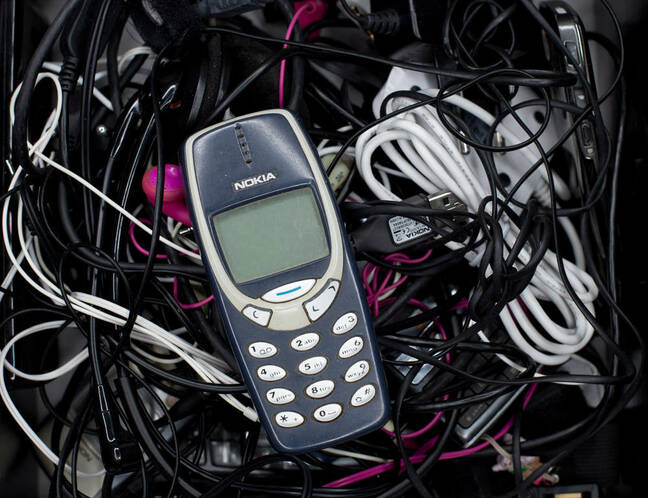 Maybe yours is stowed away in a similarly chaotic drawer of forgotten cables
Ben Wood, analyst at CCS Insight and curator of the Mobile Phone Museum, remembers the 3310 well. Speaking to El Reg, he said: "The Nokia 3310 is a true icon in the mobile phone world. Having sold over 120 million units its ubiquity meant that it is a device that many people owned, often as their first mobile phone. This means it generates a real sense of nostalgia which further underlines its status as one of the most important mobile phones of all time.
"The robust design made it almost indestructible in daily use and its ease of use meant that it became a firm favourite with customers. It is little surprise the design was rebooted in 2017 by HMD Global, the company that now licenses the Nokia brand for phones."
The most recent 3310 version apes the aesthetic of the original well, although ditches some of its simplicity for a bevy of modern accoutrements, including a colour display and a 2MP rear camera. It couldn't repeat its predecessors genre-defining success, but it was nonetheless a major win for HMD Global, initially selling out and kick-starting a range of retro-inspired feature phones, most recently the Nokia 5310. ®