This article is more than 1 year old
Nominet backtracks on .uk domain expiration money grab, critics still fear sweetheart deal to come
At registry operator, money talks and everyone else is ignored
Analysis Nominet has backtracked on a plan to give itself control of .uk's multi-million-pound domain-name-expiration market following an outcry by its members.
"While a proportion of responses from a wide range of sectors including the drop–catching market supported [our suggested] approach, the prevailing view was this is not the role of the registry," the executive in charge of the process, Eleanor Bradley, wrote in a blog post.
The company is still determined to make some kind of change however: it just won't tell members what that is. "We remain of the view that some change is not only beneficial, but necessary," the post continued.
"While many contributors and commentators felt the status quo should be retained, this would mean the current incentives to circumvent our acceptable use policies (AUPs) would remain. There is no direct, practical way to address collusion or circumvent system rules, so some change is required."
The .uk registry operator's U-turn follows a "consultation" it launched last month that included specific suggestions for reforming the market of expiring domain names, and very unusually also included a scoring system for evaluating the ideas on which it had already filled in the scores.
The only proposal that received full marks was one that would flip the existing market for expiring .uk domains: it would not only give Nominet control of all such names but also set up a new auction system – with all proceeds going to Nominet.
Members were incensed that the organization that is supposed to oversee .uk domains was effectively threatening to seize control of its most profitable market. They were also suspicious that Nominet was trying to push the result through by running a consultation that lasted just one month during the summer holidays.
Wrong kind of feedback
When a group of more than 100 members signed a petition calling for the idea to be scrapped entirely, Nominet's general counsel Nick Wenban-Smith refused to accept it, arguing there was a formal mechanism for responding to the consultation – a mechanism that forced respondents to make a series of binary choices between the options that Nominet had put forward.
Wenban-Smith noted that there were 2,400 members but only 100 names on the petition. In response, the petition's main organizer, Andrew Bennett, pointed out that Nominet's consultation has only received 55 responses and his petition had 101.
Following the outcry, as well as complaints to Nominet's Board, executives have abandoned their preferred approach. "We will not pursue an auction model," said the post by Bradley, before noting that Nominet will introduce "a new approach for those that wish to drop–catch names where participants can purchase connections."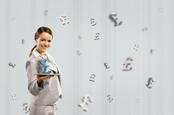 Nominet shakes up system for expiring .uk domains, just happens to choose one that will make it £millions. Again
READ MORE
That approach is not explained though we're given the unusual detail that "the decision to purchase this initial access to dropping domains – covering the first few minutes of availability – will be based on the business case for each registrar."
Smaller members see echoes of previous policy changes made by Nominet that have actively favored larger companies – several of whom sit on Nominet's Board – over smaller ones. As one example, last year, Nominet created a special one-week registration period for a bulk expiration of .uk domains and introduced a pay-to-play system where those companies that could afford to pay more got greater access to the registration system.
The biggest companies paid £90,000 upfront to be allowed to register 150 domains per minute. Smaller registrars that couldn't afford that sum were only allowed to register six domains per minute for £450. As every minute passed, the larger companies used their greater access to grab the vast majority of the most valuable domains, then sold them on for profit.
Smaller Nominet members fear the same thing will happen again with domain expiration run through a system that favors larger and richer companies. It should be noted that thanks to Nominet's voting rights allocation system, those with more domains registered i.e. larger international companies, get more votes and as a result, the largest five registrars have an effective veto of Nominet decisions. It is no coincidence that those same companies repeatedly get their representatives elected to the Nominet Board.
Although the U-turn looks like a rare example of Nominet executives listening to members, there could be a larger reason for the decision to abandon its market takeover: its own existence. If Nominet took over the domain expiration market, it would cross a line between oversight and being a market player.
If Nominet member numbers drop significantly, it would put a spotlight on a company that is supposed to be a non-profit, public-benefit member-based organization. In the past decade, and particularly under current CEO Russell Haworth, a former acquisitions and ventures specialist, Nominet has thrown its weight around like a for-profit organisation, using the UK's internet registry to fund a series of largely unsuccessful forays into commercial markets.
The decision over who operates the .uk internet registry ultimately rests with the UK government, which continues to believe it should be run in the nation's best interests. In the past, the government has threatened to take over operations if Nominet isn't up to the task.
If Nominet continues to seemingly put its own interests ahead of its broader membership or the UK public, it may again find itself under review by the Department for Business, Innovation and Skills (BIS). ®