Samsung reveals new folding stuff for people who like flaunting wads of folding stuff
If your iPhone doesn't impress any more, Sammy thinks you'll flip for luxury
Changed banks lately? Samsung thinks you're more likely to have done that than to have changed from iOS to Android.
The company's inertia-buster is its new Galaxy Z Fold2, a 5G device that will cost around $1,799 and unashamedly be marketed as a luxury item.
"It really is a status symbol," Samsung staff told The Register at a pre-launch briefing, adding that premium devices of this ilk are what it takes to pry an iPhone from the hands of a monied fanboi.
Samsung has added premium services to the mix to increase the Fold2's allure, in the form of the "Galaxy Z Premier Service" that promises "on-demand concierge support from a dedicated team of product experts" in some markets. Said experts will help owners "discover how to unlock the unique experience the Galaxy Z Fold2 enables".
Samsung has adopted this tactic because it sees certain iPhone customers as so welded to the ecosystem that it needs a device that helps them flaunt their purchase to friends. The novelty of a foldable does the job, The Register was told.
The fact that it's a premium handset with a typical Samsung pedigree doesn't hurt either.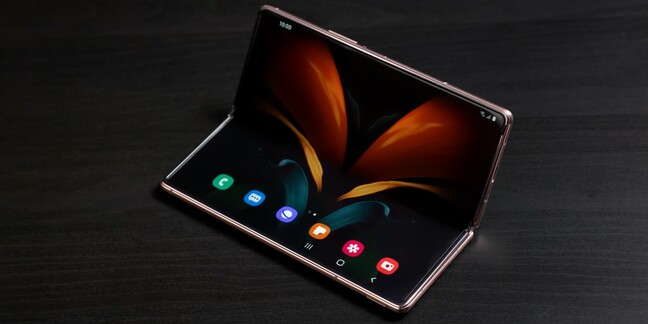 The Galaxy Z Fold2
Like its predecessor, the Fold2 is in a clamshell form factor. On the front, or outer lid, is a 6.2-inch 2260 x 816 25:9 "Cover screen". Open the clamshell and there's a single 7.6-inch, 22.5:18 and 2208 x 1768 "Main screen". This can operate laid flat or with the hinge at an angle. In the latter mode the device looks like what the Psion Gemini might have grown into with an all-glass interface. It behaves a bit like a micro-lappie too as Samsung devotes half of the screen to controls and the other half to content.
The device is not small, measuring 68.0 x 159.2 x 16.8mm. And it has a lot of cameras to keep track of: the Cover screen and Main screen each have a forward-facing 10MP shooter, while the rear of the machine boasts three 12MP affairs, one each for ultra-wide-angle, wide-angle and telephoto fun.
An eight-core CPU at 3.0GHz beats beneath its glass and metal skin, accompanied by 12GB of RAM and either 256GB or 512GB of storage.
The machine seemingly packs more sensors than a 1970s Mars lander, namely an accelerometer, barometer, gyro sensor, geomagnetic sensor, hall sensor, proximity sensor, light sensor and a boring old fingerprint reader.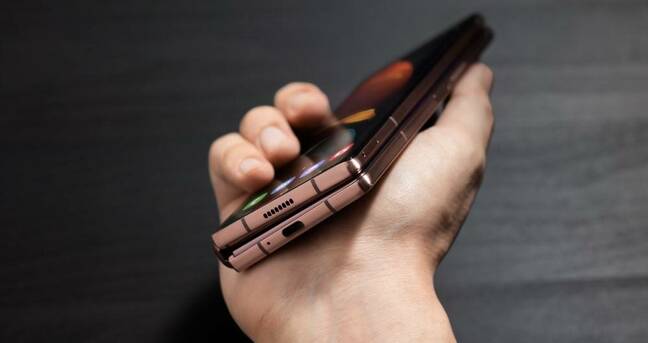 Meaty paws clutch the Z Fold2
Android 10 does the driving and the device can spit out 4K video if you are gauche enough to connect an HDMI cable.
Samsung gave The Register an Australian base price of AU$2,999, which is actually a little cheaper than rumoured US and UK price tags of $1,799 and £1,799.
The company also upgraded its Galaxy Z Flip with 5G.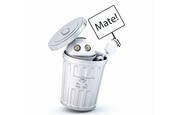 Samsung slows smartphone upgrade treadmill with promise to support three Android generations on Galaxies
READ MORE
There's more folding stuff coming, with Samsung execs telling The Register that the niche is "here to stay." While they didn't say if new products are in the pipeline, Samsung's research was said to reveal that folk lucky enough to possess a PC, foldable, and tablet spend less time using the latter machine. Foldables could therefore be Samsung's way of swiping at both the iPhone and iPad.
One small wrinkle: the lowest-end iPad offers exceptional performance for about a sixth the price of the Fold2.
Your humble hack played with the original Fold in a Samsung store and found it bulky and odd. Samsung didn't offer any hands-on time with the Fold2, despite having defied the pandemic to do so for the Galaxy Note20. Here's hoping The Register is allowed to get its claws on the new machine one day. ®