This article is more than 1 year old
As Amazon pulls union-buster job ads, workers describe a 'Mad Max' atmosphere – unsafe, bullying, abusive
El Reg speaks to those battling the dog-eat-dog regime in internet giant's warehouses
Special report Pallets stacked 10 high when the old rules said a maximum of five; policies to thwart the spread of the COVID-19 virus not followed and co-workers only informed about positive tests a month later; punishing work rates that are constantly changed and used as a weapon; write-ups as retaliation for complaining about racist behavior; and serious injuries dismissed with a Tylenol and an ice-pack.
This is the reality of life inside an Amazon warehouse, according to workers The Register spoke to this week.
The same day we published a story on a report by the Open Markets Initiative outlining a culture of surveillance and intimidation at the e-commerce giant, we received a slew of messages from former and current workers who not only confirmed the report's allegations but described situations far worse than mentioned.
We spoke to five of them, spread geographically across the US, by phone and other means. Three wanted to remain anonymous; two said we could use their names; all feared retaliation for speaking out. We put the most serious allegations to Amazon and have included its responses below.
At the center of the earlier report's allegations was the claim that Amazon imposes punishing work rates as a way to maintain its hyper efficiency. The rates vary from job to job: from number of deliveries for drivers per day, to the number of packages processed per hour for those in the warehouse. Hitting your rate is key to avoiding termination.
Setting targets for staff is nothing new, though Amazon has wielded this approach, along with its obsession for data and computer-driven decision-making, to achieve extraordinary logistical success. With millions of people staying home during the pandemic, and ordering stuff to their doors as opposed to going out and buying things in person, this is a crucial time for Amazon and its workers.
Away from the number-crunching at corporate headquarters, the work rate has become a weapon that stressed-out managers use to bully and intimidate those on the shop floor, it's claimed. Not only are warehouse workers frequently not told what the required work rate is, the rate changes constantly – sometimes hour by hour depending on the whims of the local operational manager.
"We had a single-pack rate of 55 an hour," explained one worker. "Then it increased to 60. Then it was decreased without them telling us. Then it was increased again." With people's jobs – and so their rent and food – literally on the line, the constant changes add a level of pressure and anxiety that many cannot handle.
It varies
Amazon implies it has a single work rate across all its operations, though long-term workers who have spoken to colleagues across America say it varies all the time, and appears to be developed by averaging out the work rate of the top 10 per cent of workers on any given week, which would explain the sometimes daily variances.
While expecting everyone to work as hard as the hardest working at all times, those who don't are written up and are fired if they don't improve. Amazon has apparently hard-coded a five per cent failure rate into its system as a way to constantly drive performance improvements. Even if everyone in the building – headcount numbers vary from 300 to 600 in warehouses – works equally hard, there will always be a bottom five per cent who are written up, according to those we spoke to.
This is similar to the stack ranking used at large companies: the lowest ranked staffers in a team by performance are warned or terminated even if their work is satisfactory or better.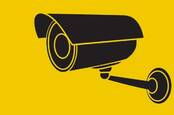 Amazon spies on staff, fires them by text for not hitting secretive targets, workers 'feel forced to work through pain, injuries' – report
READ MORE
Spokespeople for Amazon told us in response to these reports of constantly changing work rates, and an imposed five per cent failure rate, "Like most companies, we have performance expectations for every Amazonian – be it corporate employee or fulfillment center associate and we measure actual performance against those expectations. Associate performance is measured and evaluated over a long period of time as we know that a variety of things could impact the ability to meet expectations in any given day or hour. We support people who are not performing to the levels expected with dedicated coaching to help them improve."
The claim of coaching is one made persistently by Amazon, yet one worker we spoke to said they are one of those able to provide such coaching at Amazon facilities, and had only been asked to provide coaching once in three years. Meanwhile, in the same time frame, numerous people had simply been fired for failing to hit their work rate.
It's not just work rate, either. Amazon obsessively follows what it calls "time off task" or TOT – which is the time workers spend not working. If someone accumulates too much TOT, they are written up; if they go above a certain threshold, they are automatically fired.
In one case we were told about, one worker was re-assigned to another task, and the hours they spent doing that job was wrongly registered as TOT in the system. Despite the worker's protestations, the management team that assigned them the task then fired the worker for going over their TOT limit.
With area managers (AMs) given write-up authority, often with little or no accountability, the system is frequently abused, say workers. There are typically two AMs per department and six departments in a warehouse, with two work shifts, so there are anywhere between 20 and 30 AMs in each warehouse.
Write-ups, or the threats of a write-up, is used to intimidate and retaliate, often to keep a lid on complaints and work problems that the same managers are responsible for. One person we spoke to told us they had formally complained about racist behavior by a number of area managers and the next week was written up by one of those they had complained about.
Retaliation
But making matters worse, the worker was not informed of the write-up until their own AM saw the report on their screen. The write-up falsely claimed the worker had been told about the warning – complete with timestamp, as per Amazon policy – and it was only good fortune that in that case the worker had a verifiable alibi to prove they weren't at work when they were supposedly informed of their infraction.
With both managers and workers continually monitored and judged – even fired – by the computer models developed at HQ, the algorithms are given precedence over on-the-ground experience, workers say. Those who have stayed at the same place for a number of years have learned to take contemporaneous notes whenever they do something that isn't the precise job at hand so they can explain any discrepancies later.
Even when equipment malfunctions, as package scanners and tracking devices inevitably do, workers find themselves in a guilty-until-proven-innocent situation where they have to prove they weren't slacking off under threat of the sack.
The combination of work rates, time-off-task, and automated firing decisions has created what one worker described to us as a "Mad Max atmosphere" and another as "the most dog-eat-dog environment I've ever seen in nearly 40 years in the workforce."
In response to write-ups being used to intimidate workers, Amazon told us: "At Amazon, we believe a direct open-door policy that encourages associates to bring their comments, questions and concerns directly to management is the best relationship we can have with our associates.
"We firmly believe that this direct communication is the most effective way to understand and respond to the needs of our workforce. Associates are encouraged to push us to be better – either through public channels like team meetings or the Voice of Associate board, or through private channels such as anonymous surveys and closed-door meetings with general managers."
Aside from the stress, the environment results in greater risk-taking and lower safety. "They ignore all safety and line personnel requirements to do a task," claimed one current worker.
In order to hit aggressive delivery targets, rules have also changed. Previously, warehouse workers were only allowed to stack five pallets on top of one another; with the drive in demand for stuff caused by people staying at home to avoid the coronavirus pandemic, that has doubled to 10.
Working as a team, alone
Making things worse, workers are supposed to seek assistance for anything they can't safely lift or handle themselves – a so-called "team lift."
But one worker told us their manager said they no longer needed a team lift for anything under six pallets, in order to drive faster turnaround times. Another worker confessed to having repeatedly ignored the team-lift rules because finding someone else to help them would take time and cut into their work rate.
The end result is worker injury. Three of those we spoke have suffered injuries in the workplace, one serious. That person shared photos of their injury and described their nightmare of fighting constantly with Amazon's workers compensation provider to get it to cover their medical bills, and still ended up having to pay for their post-surgery medications and travel expenses.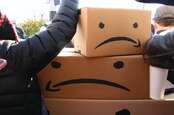 Amazon says it fired a guy for breaking pandemic rules. Same guy who organized a staff protest over a lack of coronavirus protection
READ MORE
"They make you wait weeks or months before a decision," they told us. "In the meantime, they expect you to work as usual or be fired out if you miss work. They will replace you rather than help you. It is nothing but a decent-paying sweatshop."
When it came to the issue of safety and retaliation, Amazon told us: "Safety is our top priority, and everyone in our facility has a role to play in challenging our assumptions. We have a zero tolerance for retaliation for employees who raise concerns."
These complaints are just the tip of the iceberg, with other workers in other departments describing many of the same problems: stressed-out and constantly changing managers taking it out on workers; workers threatening their co-workers who they are put into active competition with; complaints ignored by management or dealt with aggressively; active and unhindered discrimination against others, whether because of their language or color; a lack of security with metal detectors turned off and then removed entirely... the list goes on and on. "The racism is fierce; the rate is fierce," one summed up.
But perhaps most concerning given the ongoing pandemic is what the workers had to say about Amazon's approach to curbing the spread of the COVID-19 coronavirus. Policies were drawn up to minimize the risk of spreading the bio-nasty, yet they are constantly ignored – except when a manager wants a reason to fire someone, it's claimed.
Health crisis
"I was actually fired for adhering to the time change for COVID-19," one worker told us, referring to a change in working hours during the virus outbreak that was poorly communicated. "They never took the time to see this was a simple mistake on their part."
Amazon corporate has put in place a wide range of distancing, health, and cleaning policies to reduce the spread of the virus while allowing enough workers on site to keep the business running and meet the demand for home deliveries during the pandemic – yet many managers have either ignored them or failed to implement them in order to keep up with their own required work rates, workers claim. Anything that slows down the processing of packages is avoided.
Stories of people being let into buildings even when they had an obvious fever are widespread. Drivers are required to say they were given a temperature check before they started their shift but in reality they usually aren't and just hit the button on their app so they can start work regardless.
Workers are supposed to clean their equipment every day to limit the spread of the virus but don't because it is not considered part of their main job and adds to their TOT, which would increase the risk of them being fired at the end of the week. Many of Amazon's workers have little or no savings and need their wages to survive.
Amazon's systems for reporting infections and disclosing these results to colleagues are also apparently a mess, with one worker telling us they were only informed that a co-worker had tested positive a month after the fact; another said they were told two weeks later.
There is a constant flow of workers who test positive and have to stay home to recover, and despite Amazon promising to cover their wages during that period, too many times the money never turns up, forcing workers to go back to their warehouses in order to afford food for the next week.
"We've had eight to ten cases at our site that we know of," one worker told us. "We are sent a notification on our phones that only says someone tested positive and what their last day of work was – which is always two weeks after the fact. We are never informed of what area was exposed, or which group of people. They're not going to quarantine several people, no matter what the cost, or to whom."
On the issue of its COVID-19 policies and their lax enforcement, Amazon told us: "Temperature checks are mandatory and if we found someone attempting to bypass this safety measure, we would pursue disciplinary action... Someone diagnosed with COVID-19 will receive up to two weeks of paid time off — this is in addition to their other paid and unpaid time off options."
Union busting
With such conditions, it is perhaps not surprising that many Amazon workers are talking about unionizing to protect their rights and keep over-zealous managers at bay. But it seems Amazon is ahead of them.
As the Open Markets Initiative report outlined, the tech titan has ramped up surveillance of workers to ensure that unionization efforts don't get off the ground, including identifying local organizers and moving them repeatedly to different stations, as well as breaking up groups of people in case they are discussing such efforts.
On Tuesday, it was noticed Amazon had two job postings open on its website for an "intelligence analyst" and "senior intelligence analyst"; positions that are intended to act as union-breakers for the company.
"Analysts must be capable of engaging and informing L7+ ER Principals (attorney stakeholders) on sensitive topics that are highly confidential," read the descriptions, "including labor organizing threats against the company, establish and track funding and activities connected to corporate campaigns (internal and external) against Amazon, and provide sophisticated analysis on these topics."
It also noted they must "deploy sophisticated search strings tailored to various business interests" that include "organized labor, activist groups, hostile political leaders," as well as "close knowledge gaps" in topics that include "hate groups, policy initiatives, geopolitical issues, terrorism, law enforcement, and…" – that's right – "organized labor."
Soon after the job ads gain wide awareness, Amazon removed them from its website, alleging to the press the postings were "not an accurate description of the role – it was made in error and has since been corrected."
In a statement to The Register, it went on: "Like most companies, we have a team of analysts that help prepare for external events such as weather, power outages, or large community gatherings like concerts or demonstrations that could disrupt traffic or affect the safety and security of our buildings and the people who work at them. This role was intended to support that team but did not reflect the vision of this group or its day-to-day work."
Amazon says it has more than 125,000 full-time workers in North America and more than 75 warehouses. "Median pay inside our fulfillment centers is, on average, 30 percent higher than employees' pay in traditional retail stores," it claimed. ®
Tell us something we don't know: Tip us off securely.