This article is more than 1 year old
Borking all over the world: At home or abroad, you're never more than 6ft from a BSOD
The next train is headed to... oh dear
Bork!Bork!Bork! We live in a global village and Microsoft is often at pains to remind us that Windows is a worldwide operating system. So here's some borkage in Bucharest.
Spotted by an eagle-eyed Register reader, today's BSOD is casting a baleful eye over commuters using the Bucharest Metro. "I was relieved," our reader told us, "to see that it is not just the Brits who are exposed to the colourful display of the public screen of death."
Likely a passenger information screen, the display now informs weary commuters that their journey is hopelessly borked, a message that can be seen repeated down the platform. Something, somewhere has broken (possibly in hardware, judging by that 0x00000003 STOP) and Windows has responded in the traditional manner: with all the resilience of a snowball lobbed at a blast furnace.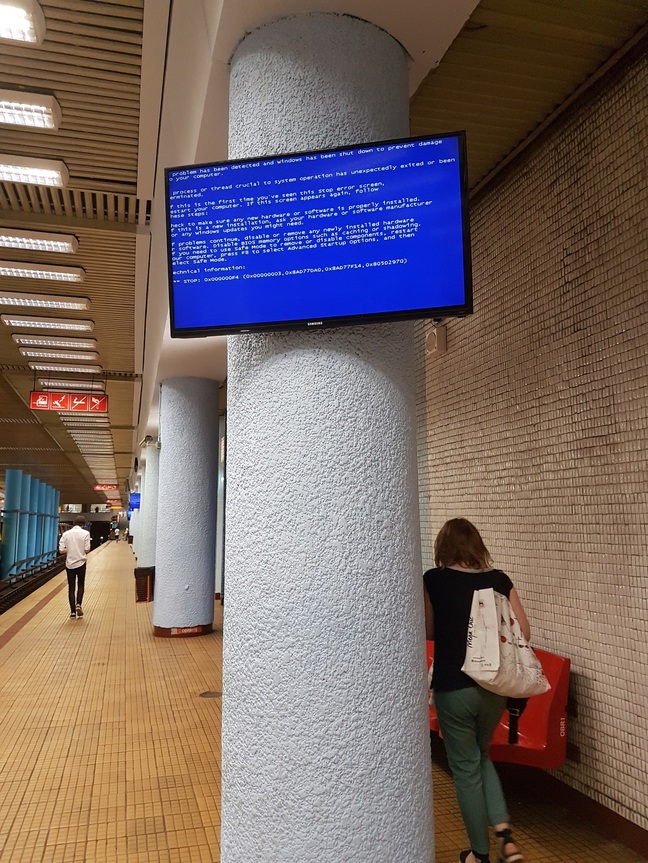 While there might be some overscan funnies going on, we reckon the error is A process or thread crucial to system operation has unexpectedly exited or been terminated. A swift driver or BIOS check might be in order, as well as a scan for malware. Or just dump the kit and start again.
The Bucharest Metro is one of the more recent entries into the international catalogue of rapid urban transit systems, having opened its first line back in 1979. Stations were added during the 1980s, although there was a bit of hiatus from 1989, when we imagine the authorities had other things on their minds.
UK public transport users will be intrigued to learn that a pass worth 10 trips on the network currently goes for Lei 20 (about £3.70 at today's rates). While getting around London can be considerably more wallet-emptying, consider that Brits get to rattle along often elderly lines and endure enjoy being wedged armpit to nose in stations built for an altogether less busy era.
Who needs the simple (and distinctly non-Eastern European) design of the Bucharest Metro, when one can be crushed against the wall of the Southbound Victoria Line platform of Oxford Circus by a boiled egg-eating, rucksack-wearing fellow traveller in the UK?
But while transport systems over Europe and, indeed, the world, can be very different beasts, it's comforting to know that wherever one and one's luggage might eventually travel, somewhere and somehow, Windows will always be crashing. ®