This article is more than 1 year old
COVID-19 tracing without an app? There's an iOS and Android update for that
Google and Apple's new 'Exposure Notifications Express' gives health authorities a shortcut
Google and Apple have updated their COVID-19 contact-tracing tool to make it possible to notify users of potential exposures to the novel coronavirus without an app.
The new Exposure Notifications Express spec is baked into iOS 13.7, which emerged this week and will appear in an Android update due later this month.
This is not, repeat not, pervasive Bluetooth surveillance. The tool requires users to opt in, although public health authorities can use the tool to send notifications suggesting that residents do so.
Those who choose to participate agree to have their device use Bluetooth to search for other nearby opted-in devices, with an exchange of anonymised identifiers used to track encounters. If a user tests positive, and agrees to notify authorities, other users will be told that they are at risk and should act accordingly.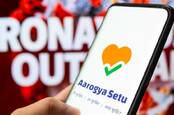 India's contact-tracing app grows an API to share health status info with businesses
READ MORE
The update is designed to let health authorities use Bluetooth-powered contact-tracing without having to build their own apps. It's still non-trivial to play, as the system requires one server to verify test results and another to run both contact-tracing apps and the app-free service.
Apple has published a succinct explainer here and Google has offered up code for notifications server on GitHub.
A couple of dozen US states have signed up for the new tool but other jurisdictions – among them India, Singapore and Australia – are persisting with their own approaches on the basis that the Apple/Google tech makes it harder for their manual contact-tracers to access information.
While the update will doubtless be welcome in many jurisdictions, contact-tracing apps have not proven quite the silver bullet many hoped. Singapore recently declined to tell The Register how many contacts its TraceTogether app had identified that were not possible by other means. Australia's app went many weeks before offering fresh information and even then was not of enormous use in combating a second wave of infections that has seen the city of Melbourne return to lockdown. ®