This article is more than 1 year old
Dating apps swiped left on Pakistan's request to clean up their acts, bans followed
Telecoms Authority says it could learn to love Tinder and Grindr if they open hearts and minds
Pakistan has continued its crusade against lewd online content by banning a bunch of dating apps.
Tindr, Tagged, Grindr, Skout and SayHi* have all felt the wrath of the nation's Telecommunications Authority, which overnight said they all offer "immoral/indecent content streaming" that has negative effects on society. The Authority has therefore blocked access to the apps within Pakistan's borders.
But the ban isn't final: the Authority left open the possibility that locals will be able to access the services if their owners sit down to talk about content moderation.
PTA can, however, reconsider blocking of the said applications provided management of the companies assures adherence to the local laws with respect to moderating the indecent/immoral content through meaningful engagement.

— PTA (@PTAofficialpk) September 1, 2020
It's hard to see how some of the targeted apps could measure up to Pakistan's laws, which forbid extramarital sex of all sorts. Grindr, for example, says it "proudly represents a modern LGBTQ lifestyle", yet Pakistani institutions are known to discriminate against LGBTQ people.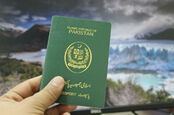 Pakistan pitches 'most relaxed tax structure' in the world to tech investors
READ MORE
At least Pakistan is being consistent with its action against the abovementioned apps, as it has also called on TikTok and YouTube to clean up their acts and even blocked the latter over allegedly blasphemous content. ®
*Not the same SayHi real-time translation messaging tool owned by Amazon. The SayHi Pakistan doesn't like is a video chat app optimised for 3G networks.