This article is more than 1 year old
There's gall – and then there's the security director who stole and resold 41 government-owned networking switches
South Carolina crook jailed for 2 years after flogging $340k of purloined Cisco kit
A former IT security director was yesterday given a two-year prison sentence after he admitted to stealing and reselling dozens of networking switches from a county government.
Terry Petrill, 48, earlier pleaded guilty to one count of theft of federal funds, and admitted to taking 41 Cisco 3850 networking switches and selling them off to third parties. He will also spend three years under court supervision and will have to pay back $345,266 to his former employers.
Petrill admitted that, in his capacity as IT security director for Horry County, South Carolina, he was able to order the networking switches as part of the normal requisition process. Additionally, when the switches arrived Petrill was able to take possession of them and tell his co-workers that he would handle the installation himself.
Rather than actually install the switches, however, Petrill would turn around and sell them off – at least nine of the switches were sold on eBay, and authorities do not know where the others went.
The thefts took place over a three-year period running from June 2015 to August 2018. Petrill was charged for the thefts in November 2019 and, shortly after, agreed to plead guilty. Prosecutors asked that Petrill, of Myrtle Beach, be given 24 to 30 months behind bars, in part because he had used his government position to steal.
"The defendant stole more than one quarter million dollars' worth of computer equipment from Horry County and sold this equipment to third parties for his own financial gain. Moreover, he did so after having been employed there for many years and having gained the trust of those with whom he worked," the prosecutors said in their sentencing letter [PDF].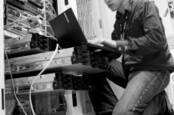 Fella faked Cisco, Microsoft gear death – then sold replacement kit for millions, say Feds
READ MORE
"Such a breach of the public's trust is especially significant in light of the critical role technology and its infrastructure play in the operation of government and to the critical public services it provides."
Unfortunately for Petrill, the legal case wasn't the only thing he had to worry about. An August 19 letter [PDF] from his attorneys notes that, at the time, Petrill was recovering from the effects of the COVID-19 coronavirus.
Less than two weeks later, he was given the 24 month term, in line with what the prosecutors had been seeking.
"Those who steal from our local governments are raiding the South Carolina taxpayers," said US Attorney Peter McCoy.
"This is unacceptable, and as this case shows we will seek prison time and restitution against those who engage in such theft. I appreciate the dedicated work of our law enforcement partners and government officials in Horry County who provided critical assistance in this case." ®