This article is more than 1 year old
Here comes an AI that can predict hurricane strength. Don't worry, NASA made it so it probably actually works
And if it does, chalk a win for IBM Watson at last
Scientists at NASA's Jet Propulsion Laboratory are turning to machine-learning models to predict the severity of incoming hurricanes.
The goal isn't to forecast whether a storm will hit a particular region or not, it's to assess how intense a storm might become over the course of 24 hours. Hurricanes are graded across five categories based on wind speeds, and that reflects emergency responses by government and individuals.
In rare cases – such as Hurricane Patricia in October 2015 – storms change from Category 1, meaning a storm that blows between 74-95 miles per hour, to Category 5, one that rages at more than 157 miles per hour, a huge difference if you're in the thick of it. It would be handy to predict this change ahead of time.
NASA hopes that by training its AI algorithms on features of a hurricane, the software can predict its strength, and provide a more accurate weather forecasting system. A team of scientists used IBM Watson Studio to train the machine-learning-based system.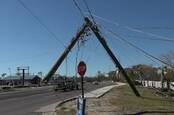 Mobe networks battle to bring comms back after Hurricane Michael smashes US Gulf Coast
READ MORE
They analyzed data from various satellites describing the amount of rainfall, wind speed, and other properties associated with hurricanes gathered over years of observations. Their model revealed that the best feature that could predict the severity of a tropical storm was the rainfall rate within the hurricane.
"A good indicator of how a hurricane's strength will change over the next 24 hours is the rainfall rate inside the storm's inner core – the area within a 62-mile (100-kilometer) radius of the eyewall, or the dense wall of thunderstorms surrounding the eye," the space agency noted. The concentration of water ice in the clouds, and the air temperature whipped by the storms were strong factors too.
The team trained their model on ten years of hurricanes from 1998 to 2008, then tested it on samples from 2009 to 2014. To see how accurate their model was, they compared their outputs against real forecast models used by the National Hurricane Center over the same period. The Register has asked NASA for more details.
The model seems to be better at predicting hurricanes that have larger increases in strength. "For hurricanes whose winds increased by at least 35 mph (56 kph) within 24 hours, the researchers' model had a 60 per cent higher probability of detecting the rapid-intensification event compared to the current operational forecast model," NASA said.
"But for those hurricanes with winds that jumped by at least 40 mph (64 kph) within 24 hours, the new model outperformed the operational one at detecting these events by 200 per cent."
Now, the scientists are working with the National Hurricane Center to apply their model on real hurricane data. "It's an important forecast to get right because of the potential for harm to people and property," said Hui Su, an atmospheric scientist at JPL. ®