PC sales will resume their long-term decline in 2021, says analyst firm IDC.
It's still happy days for Dell, HP Inc and Lenovo for now, because the work-from-home boom means demand for new PCs and tablets exceeds supply. But with most businesses having finished shopping for work-from-home kit, that source of spend will dry up. And once economies open up to the extent that consumers can safely leave their homes, spending on a new PC will look less enticing.
"Consumers have been unable to spend on restaurants, movies, and other day-to-day activities," said David Myhrer, research vice president for IDC's Consumer Technology Strategy Service.
The analyst firm therefore predicts that the long-term trend of 2.2 percent annual shipments will return, meaning that by 2024 just 389.6 million units roll off production lines each year. Things will start off badly in 2021 as economic uncertainty whacks the market, before the slow demise resumes.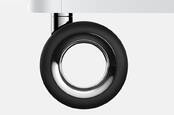 That's how we roll: OWC savagely undercuts Apple's $699 Mac Pro wheels with bargain $199 alternative
READ MORE
2020 will, however, be a banner year with shipments rising 3.3 percent year over year to reach 425.7 million units.
Come 2024 laptops will grow their market share by three points to cover 49.7 percent of the market. Workstation sales will also grow in coming years with 8.9 percent growth predicted.
Pure-play tablets will be the biggest loser, down 20 million shipments a year to 65 million machines and market share of 16.8 percent. Desktops and PCs with detachable keyboards will retain their share of the market even as it dwindles.
While the market continues to decline, 380-million-plus machines a year means Windows will still be mighty relevant to Microsoft, Intel, AMD and others come 2024. Whether the machines are used for much more than gaming, graphics and running browsers remains to be seen. ®
Similar topics