This article is more than 1 year old
Better dictation in latest Dev Channel build will faithfully convert your spittle-flecked Windows 10 rantings to text
With auto-punctuation and all! Plus: Emojis... and more Edge-y nagging
Microsoft took pity on those who like to yell at their PCs with an improved version of Windows dictation among other cosmetic tweaks in an updated Dev Channel build.
Despite earlier protestations to the contrary, only a "subset" of Windows Insiders will get to play with the new toys in build 20206 before a wider rollout.
The most notable enhancement this time around comes in the form of Voice Typing, an update for the venerable Windows dictation. Microsoft laid claim to a "modern design", which works better for the vanishingly small number of Windows users opting for a touch keyboard and an updated backend. Auto-punctuation is also supposedly supported, although this was a little hit-and-miss in our testing.
A number of English variants are supported, along with French, Spanish and Simplified Chinese among others. Users also need to be online.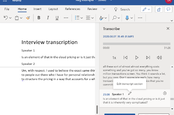 My crow soft adds audio transcription to premium Word Online... Only joking. It's pretty good if a bit on the slow side
READ MORE
Voice Typing, even in preview, proved surprisingly accurate and was used to dictate a first draft of this article. There are, however, some rough edges. An attempt to move the listening window resulted in the creation of a delightfully named VoiceTypingFloaty-300x239.png image file on the desktop and occasionally the function would go off in a sulk.
"In some Office apps," the company warned, "you may experience random pauses while using the voice typing feature. If this happens, click the microphone icon again to restart the listening experience."
"Most reliable voice typing experience ever on Windows"? Perhaps not quite yet.
Also in the preview are yet more tweaks to the built-in emoji picker and the ability to shift the cursor by holding down the space bar on a touch keyboard and dragging around – something iOS users and their ilk have enjoyed for a while now.
As well as a raft of fixes, Microsoft also noted issues with the developer-friendly Windows Subsystem for Linux. The wsl -install command might not install the Linux kernel. Old habits die hard, it seems. A workaround is to run wsl -update to get the latest kernel version.
And for those wondering what Microsoft would like users to browse and search with, the settings app has gained an even more in-your-face bit of nagging.

After all, everyone really wants to use Edge and Bing, right? ®