China has expressed its displeasure with India's decision to ban 118 apps that originate in the Middle Kingdom.
A Q&A posted by China's Indian embassy features Counselor Ji Rong proclaiming "We are seriously concerned and firmly oppose the Indian government to prohibit the Mobile APPs with Chinese background with the excuse of 'national security'."
"The Chinese government has always required Chinese overseas companies to abide by international rules and operate in compliance with laws and regulations," the statement continues. "The relevant practices by the Indian government not only harm the legitimate rights and interests of Chinese investors and service providers, but also harm the interests of Indian consumers and the investment environment."
"China and India are the opportunities of development to each other rather than strategic threats," Ji added. "We hope that India will work with China to maintain the hard-won cooperation and development situation, and return to the right path of win-win cooperation."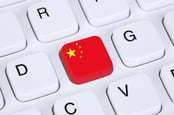 India bans 59 apps it says have privacy, national security problems. In a massive coincidence, they're all Chinese
READ MORE
But Ji also slipped in this sentence: "We urge the Indian government to rectify the discriminatory practices violating World Trade Organisation (WTO) rules, and provide an open, fair and impartial business environment for all market players from various countries including China."
Which is where things get interesting, because Chinese diplomats recently warned Australia that its calls for the World Health Organisation to probe the origins of the novel coronavirus could see Chinese consumers lose interest in Australian products.
China later banned imports of Australia beef and barley, then accused Australia of dumping wine at below production prices. Disputes of that sort are generally settled in the WTO, but that body can take years to settle a matter.
Mentioning the WTO is therefore potentially a sign that China is willing to wrap India in red tape for years. Which could lead to some interesting chats about India's plans to become self-sufficient in software, silicon, and just about every other commodity.
Indian Prime Minister Narendra Modi addressed that plan overnight in his speech to the annual US/India summit, saying it "ensures India's strengths act as a global force multiplier."
The self-sufficiency policy "is about transforming India from being just a passive market to an active manufacturing hub at the heart of global value chains."
"This pandemic has also shown the world that the decision on developing global supply chains should be based not only on costs. They should also be based on trust," he added. "Along with affordability of geography, companies are now also looking for reliability and policy stability. India is the location which has all of these qualities." ®
Similar topics