This article is more than 1 year old
Microsoft: We're getting rid of Flash by the end of the year - except you can still use it
Disabled by default at the end of 2020, but it will linger on like a bad smell
Microsoft confirmed that it plans to end support for Adobe Flash Player in its three browser variants at the end of the year, but the company intends to allow corporate customers to keep the outdated tech on life support beyond that date.
In a blog post on Friday, Microsoft program manager Suchithra Gopinath said that the company will end support for Flash Player in Edge, Edge Legacy, and Internet Explorer on December 31, 2020, as part of the previously announced multi-vendor plan to end Flash Player distribution.
The decision, she said, follows from "the diminished usage of the technology and the availability of better, more secure options such as HTML5, WebGL, and WebAssembly."
Back in 2017, when a multi-vendor Flash banishment plan was first announced, Microsoft said it would disable default availability of Flash in its browsers – numbering only two at the time – by mid to late 2019 and remove the ability to run Adobe Flash in Edge and IE for all versions of Microsoft Windows by the conclusion of 2020.
Disabling Flash Player by default won't necessarily kill off Flash apps. Some companies, horrible though it may seem, still use Flash apps for intranet content, dashboards, training apps, and other software no one could be bothered to rewrite.
So Adobe has enlisted Samsung's Harman group to provide Flash support to enterprise customers after the end of the year. And Microsoft plans to make Flash Player loadable through its browser plug-in interface.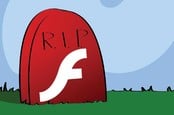 The Adobe Flash Farewell Tour 2020: LibreOffice to axe export support for .SWF in version 7
READ MORE
"To aid such customers, Microsoft Edge will allow Adobe Flash Player to load as a plug-in via the Internet Explorer mode feature," explained Gopinath. "Inherently, Internet Explorer 11 will also allow this."
Microsoft, however, will not be providing support for those running Flash as a plug-in, so don't ask.
In December 2020, Microsoft will no longer distribute "Security Updates for Adobe Flash Player" for Edge Legacy and Internet Explorer 11. In January 2021, Flash Player will be disabled by default and all versions older than KB4561600 (released in June 2020) will be blocked.
For those wishing to be rid of the damn thing entirely, Microsoft plans to make "Update for Removal of Adobe Flash Player" available via Microsoft Update Catalog, Windows Update and WSUS. As the update name suggests, this bit of code will purge Adobe Flash Player, permanently removing it from Windows OS devices.
The Flash-banishing update will be available for download from the Microsoft Update Catalog this fall and will become an option for Windows Update and WSUS in early 2021.
Those firms clinging to Flash Player like grim death will want to be wary of updates that arrive in the summer of 2021. That's when Microsoft will be removing the APIs, group policies, and user interfaces that control the behavior of Flash Player from Edge Legacy and IE 11.
Gopinath said customers working with Adobe for Flash support should not be affected by these changes, slated to arrive via "Cumulative Update" on Windows 10 platforms and via "Cumulative Update for Internet Explorer 11" or "Monthly Rollup" on Windows 8.1, Windows Server 2012 and Windows Embedded 8 Standard.
Flash is dead. Long live Flash. ®