China's space program has launched and landed an experimental and re-usable spacecraft and by doing so may have signalled it can match the capabilities of a secretive US strategic asset.
China scarcely acknowledged the launch and state media offered only scanty reports of the mission, saying the craft launched atop the Long March-2F rocket that China has now used successfully in 16 low-Earth-orbit missions. The craft was then returned to Earth on Sunday and a three-sentence story in State organ Xinhua that ended with: "The successful flight marked the country's important breakthrough in reusable spacecraft research and is expected to offer convenient and low-cost round trip transport for the peaceful use of the space."
Xinhuateased this mission in 2017, when it said "Unlike traditional one-off spacecraft, the new spacecraft will fly into the sky like an aircraft" and named 2020 as the timeframe for whatever it is to fly.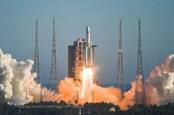 China successfully launches its biggest-ever space truck to fire up its space station ambitions
READ MORE
Western analysts suspect the craft closely resembled the X-37B, the US's uncrewed spaceplane that can stay in orbit for months at a time and has been observed carrying out plane change manoeuvres that would require quite a lot of fuel and make it more stealthy than vehicles that reach and then remain in an orbit that hardly varies.
The X-37B looks a lot like NASA's Space Shuttle and includes a cargo bay that has been imagined as a possible site for satellite-grabbing tools, perhaps not for entirely peaceful purposes.
China is currently building a space station, so certainly has a need for "convenient and low-cost round trip transport" to space. The nation also has as much strategic interest in space as any other.
If China uses whatever is launched and landed to ship crew to its space station, it will probably tell the world and not be shy of doing so. ®