This article is more than 1 year old
Nintendo revives Game & Watch portable proto-console, adds color to 2.36-inch screen
Retro-Mario brought to life for a few short months
Nintendo has revived its first mobile device, the crap-tacular Game & Watch.
For those of you too young or too faded-of-memory to know of the device, they were about the size of a four-bar KitKat, boasted a small LCD screen, a single game and whatever buttons were needed to play it. 1982's Donkey Kong incarnation of the Game & Watch featured Nintendo's first D-Pad and the company made wide use of the device in subsequent models and later on console controllers.
As the name implies, the device also functioned as a digital watch.
A favourite of the 1980s schoolyard, the Game & Watch range featured games starring characters that became Nintendo stalwarts. That the revival of the device coincides with Mario's 35th birthday is no coincidence.
The new machine goes on sale from November 13 and Nintendo said production will cease in 2021. It will cost ¥4,980 (US$46.75), a sum that buys a device with a 2.36-inch full-colour screen, Super Mario Bros. and Super Mario Bros. 2 and an updated and Mario-themed version of the Game & Watch title "Ball". A Li-Ion battery and a USB-C cable to charge for eight hours of gameplay round out the package.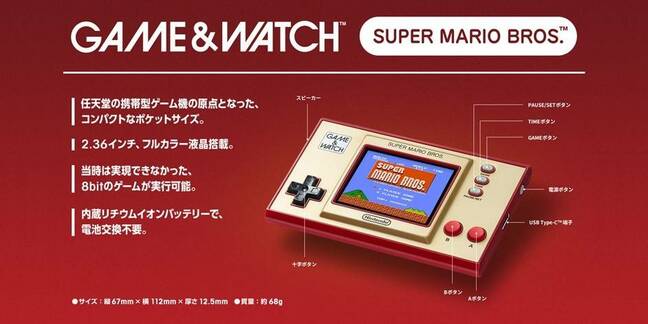 The revived Game & Watch. Click to enlarge
The device went on sale over the weekend in Japan, but at the time of writing sales appear to have closed. Nintendo's sites outside Japan offer no evidence that the device will be offered to global customers.
The Register expects many a geek would love to see this under the tree if the world makes it to Christmas. ®