This article is more than 1 year old
No Huawei, America: Samsung scores $6.6bn for 5G at US giant Verizon
Remember how established carrier vendors were going to clean up after Huawei bans? Not so much, maybe ...
Samsung Electronics has won a $6.6bn contract to supply 5G infrastructure to Verizon in the US, beating out more established and traditional telco suppliers Nokia and Ericsson.
The deal, which was finalised on Friday, is likely one of Samsung's biggest 5G contracts to date, equaling 3.43 per cent of the firm's total sales for 2019, according to a Korean-language stock market filing.
The news will come as a disappointment to industry veterans Nokia and Ericsson, which have been assumed to be in excellent positions to win 5G rollouts after several nations decided to exclude Chinese kit from their next-generation wireless networks.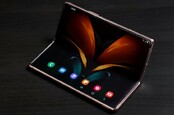 Samsung reveals new folding stuff for people who like flaunting wads of folding stuff
READ MORE
While Samsung already does plenty of business with Verizon, it is a less-established player among top-tier carriers. However, in 2018 the company's head of networking, Youngky Kim, said that the business was aiming to take 20 per cent of the global 5G market by 2020.
Samsung's range of carrier-centric kit includes massive MIMO radios, a virtualized RAN and network slicing capabilities. And of course the company knows plenty about 5G devices, seeing as it makes them by the million.
The contract is dated for 30 June 2020 through 31 December 2025 and includes equipment, installation, and maintenance, according to the filing. ®