This article is more than 1 year old
Australia starts second fight with Google, this time over whether app stores leak data, gouge devs, steal ideas and warp markets
Apple also in sights of inquiry that could spark more new laws
Australia, already embroiled in a nasty fight with Google and Facebook over its plan to make them pay for news links, has opened an inquiry into whether Apple and Google's app stores offer transparent pricing and see consumers' data used in worrying ways.
The issues paper [PDF] outlining the scope of the inquiry names only Apple and Google as of interest. The paper also mentions the recent Apple/Epic spat over developer fees to access the app store and proposes to ponder sideloading as a means of bypassing curated stores.
The Australian Competition and Consumer Commission, which will conduct the inquiry, has set out the following matters it wishes to probe:
The ability and incentive for Apple and Google to link or bundle their other goods and services with their app marketplaces, and any effect this has on consumers and businesses.
How Apple and Google's various roles as the key suppliers of app marketplaces, but also as app developers, operators of the mobile licensing operating system and device manufacturers affect the ability of third party app providers to compete, including the impact of app marketplace fee structures on rivals' costs.
Terms, conditions and fees (including in-app purchases) imposed on businesses to place apps on app marketplaces.
The effect of app marketplace fee structures on innovation.
How app marketplaces determine whether an app is allowed on their marketplace, and the effect of this on app providers, developers and consumers;
How where an app is ranked in an app marketplace is determined.
The collection and use of consumer data by app marketplaces, and whether consumers are sufficiently informed about and have control over the extent of data that is collected.
Whether processes put in place by app marketplaces to protect consumers from harmful apps are working.

The document also reveals an intention to probe whether app store operators "identify which product development ideas are successful and emulate these ideas in their own apps" and seeks "views on the data sharing arrangements between apps and app marketplaces, and any views on the potential for app marketplaces to use data to identify, and respond to, potential competitors to the marketplace's own apps."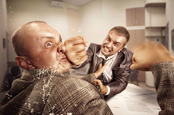 Apple hits back at Epic, says Fortnite crew wants a 'free ride' on fees: Let the app store death match commence
READ MORE
The Commission has created a survey for consumers and another for developers . The latter asks for comment on "adequacy of communications from the app store during the review process" and the experience of appealing decisions. Which should make for some tasty reading once the inquiry reports in March 2021.
The ACCC lists "legislative reform to address systemic issues" as one possible outcome from the inquiry. Which would be tastier still, given the furor over Australia's current proposed laws. ®