This article is more than 1 year old
Upside down, you turn me, you're giving bork instinctively: Firefox flips as a train connection is missed
Respectfully, I say to thee... I'm aware that you're borking
Bork!Bork!Bork! Welcome to another instalment in The Register's ongoing coverage of unhappy digital signage. Today, the world has been turned upside down by the curse of Bork.
Spotted by a Register reader on one of the newer Northern Trains Limited trains (possibly a Class 195?) Firefox is having a bit of an off day, with the onboard screen flipped and whinging about an inability to connect.
This is an experience shared by many travellers using the service, particularly during some of its more troubled periods. One passenger described the trains to us as "crowded, late, overpriced, antiquated," before launching into a tirade about the number of ageing bus-based Pacer trains (which the 195 is supposed to replace) still running on the network, although "even the newer trains are [expletive deleted]" he spat.
Harsh, although the history of this particular rail franchise has had more twists and turns than the most badly laid out bit of track. Operated by Northern Rail from 2004, the franchise was taken over by Arriva Rail North in 2016. A better example of borked rail would be hard to find in the events that followed.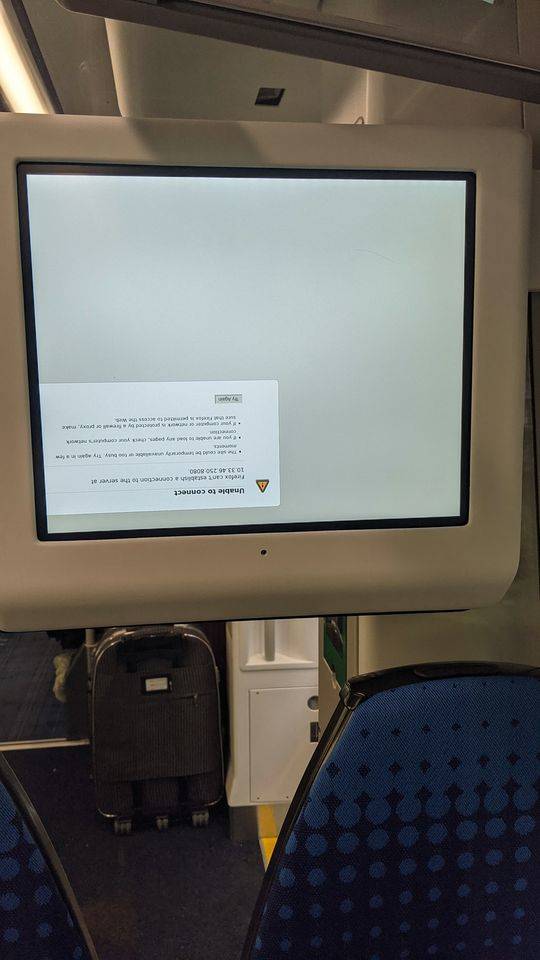 Click to enlarge
Originally supposed to run well into the 2020s, the franchise was unceremoniously yanked from Arriva North on 1 March 2020 following howls of anguish from passengers faced with ongoing poor punctuality and not-so-great service. So bad were the problems that the UK government was forced to step in, and Northern Trains was formed to stabilise things.
Sadly, those elderly Pacers (dubbed by "an unholy alliance between the body of a bus and the base of a freight wagon" by The Manchester Evening News) continue trundling along the tracks due to delays in the introduction of newer models. And those that are running, well, clearly there a few minor teething issues.
It would seem that whatever connectivity Firefox is relying on has come out in sympathy with the travails of Northern Trains, with the topsy-turvy screen seemingly as borked as the history of the service that carries it. ®