Google's Cloud Next OnAir broadcast marathon (56 days and counting) has run into its final week, this one focused on "Business Applications", with the claim its new product "empower[s] non-technical employees to quickly build data-driven applications without coding."
Where have we heard that before? Perhaps from Microsoft, which touts its "Power Platform" as the solution for "citizen developers." AWS is also sniffing at this market, with its recently introduced Honeycode service.
Google said today that the category of Business Application Platform was new, but much of it is not, instead being a re-positioning of existing services. The no-code element comes largely from AppSheet, a company acquired by Google in January this year. Another part of the platform is Looker, a business intelligence analytics and visualization tool acquired in June 2019. Google also regards Apigee, API management services acquired in 2016, as part of the Business Application Platform.
Citizen developers will probably not build their own APIs, but they can now use Apigee APIs in AppSheet applications, thanks to the general availability of Apigee Data Source for AppSheet. Other data sources for AppSheet include Google Sheets, Excel on Office 365, Salesforce data, and relational data in SQL Server, mySQL, PostgreSQL or AWS DynamoDB. No doubt this list will become more Google-flavoured in future, with the Apigee link an example.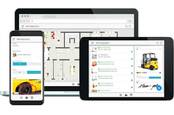 AppSheet. Gesundheit! Oh, we see – it's Google pulling no-code development into a cloudy embrace
READ MORE
The company has now introduced AppSheet Automation, which lets non-technical folk automate existing processes. More details will follow this week, but Google said the new service includes an AI-driven interface with "contextual suggestions based on natural language input", and the ability to automate processes including document-based workflows, integration with other applications, and "human-centric processes"; though how the cloud giant automates this last one was not specified.
Google will also introduce an API Gateway this week, now in beta. This is for managing APIs built on Google Kubernetes Engine (GKE), App Engine, Compute Engine (VMs), and serverless platforms Cloud Functions and Cloud Run. API Gateway uses Envoy under the covers, a service proxy also used by the Istio service mesh.
Building business applications on Google's platform makes best sense for those organisations already hooked into G Suite, just as Microsoft's Power Platform ties into Office 365 and Dynamics. Google's platform is currently more limited, but if that means simpler and less sprawling, it might be no bad thing. ®
Similar topics