This article is more than 1 year old
What a cluster-buck! Nutanix and Microsoft to swap licence credits under new Azure deal
Hyperconverged pioneer bids to manage all the things
Nutanix will kick off its annual gabfest today with news that it's completed the set of top-tier cloud alliances by striking a deal with Microsoft.
Nutanix said the deal "will include the development of Nutanix-ready nodes on Azure to support Nutanix Clusters and services." It will also allow Nutanix users to manage Azure – at least for chores like creating and controlling Azure instances – from the hyperconverged upstart's tools.
The tie-up includes cross-licensing that allows Azure customers to splurge their Microsoft Azure Consumption Commitment on Nutanix software and Nutanix customers to use their licences in the Azure store.
Microsoft likes anything that creates demand for Azure. Nutanix knows that it's hard to have too many alliances with top-tier public clouds. The procurement party is sugar on top.
2020 will be remembered for a certain virus, the Zoom meetings it created, and the attempts to explain Kubernetes strategies in that medium. Nutanix will have a crack at that, revealing a PaaS based on its "Karbon" K8s-wrangler.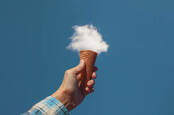 Cluster-struck Nutanix bares all for new AWS alliance
READ MORE
The hyperconverged faithful will also be told that Nutanix's Flow security tool has been SaaS-ified and now apparently provides "a centralised SaaS-based management plane delivering compliance monitoring, network visibility, and security operations across both Nutanix-powered private clouds and public cloud environments."
As promised in 2019, Nutanix's stack will be formally upgraded as happy with NVMe SSDs or Intel's Optane under the hood. Nutanix has also delivered "Blockstore", a filesystem alternative it has teased for over a year and which is said to greatly ease storage management.
Updates to the SDN tool "Flow" and "Prism" management tool will each extend Nutanix's reach into public clouds, again making the company's tools a candidate to drive more of a user's kit.
Based on the preliminary info provided to El Reg, Nutanix appears to be continuing its plan to make sure it plays nicely with the clouds that matter, while extending its stack to match rivals' networking and security prowess, ensuring storage remains a strong suit and pushing further towards making its software a tool that isn't a silo for managing just its own wares. ®