America's 5G efforts get shot in the arm with mid-band spectrum free-up
FCC rushes auction process through following Defense Department's agreement
---
The deployment of next-gen 5G mobile network in the US has just got a shot in the arm, with the FCC announcement that at the end of the month it will approve use of a big chunk of mid-band spectrum solely for 5G.
In an announcement, and blog post, on Tuesday, FCC chair Ajit Pai highlighted "decisive steps toward making the 3.45-3.55 GHz band available for commercial use throughout the contiguous United States." The independent regulator will vote on an initial plan at its meeting on September 30.
The decision was not really the FCC's to make: the spectrum in question is currently used exclusively by the US military and there have been frequent tussles between the current users of spectrum bands and efforts to wrangle them away to sell them onto commercial mobile operators.
However, last month, the White House and Department of Defense announced that they had found 100MHz "of contiguous mid-band spectrum, in the 3450-3550 MHz band [that] will be available for 5G by the end of the summer."
It was a rare example of the Trump Administration using pressure tactics in a constructive, rather than destructive way, with Defense Secretary Mark Esper and White House chief of staff Mark Meadows heading up a steering group that oversaw a new group called "America's Mid-Band Initiative Team," or AMBIT, whose sole goal was to find the 100MHz piece of bandwidth.
AMBIT pulled together all the necessary military experts in missile defense, weapons control, electronic warfare, air defense and air traffic control and was clearly told it had a single task to achieve and to do it fast. In a surprising 15 weeks, the group announced it had found the necessary space, which, coupled with the existing 3550-3980 MHz band, creates a contiguous 530 MHz band for largely 5G use.
Swift work
The FCC, to its credit, has worked equally fast to turn that news into a proposal it can vote on in just two months, although the peculiar level of praise levelled at chair Ajit Pai has a distinctly political feel to it, especially with Pai having wedded himself so closely to President Trump, whose future looks uncertain come the November elections. In just one example, a grown man - as well as the organization he leads - tweeted that Pai was "the best FCC chairman ever" as a result of the news.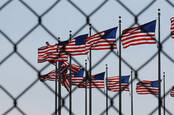 Where there's a .mil, there's Huawei: Pentagon allowed to keep using Chinese tech deemed too dangerous for everyone else – report
READ MORE
Excitement was so high that the telco industry and its associated lobbyists reverted back to talking about a "race to 5G" and piled on the anti-China sentiment, even though that approach has been largely ditched this year due to it being nonsense.
The news caps off a good few months for Pai on the 5G front, with the agency largely winning a legal case brought against it by various states and cities by trying to decide how and at what cost 5G could be rolled out across the US. The courts decided that ultimately the cities would still decide but would have to justify the fees they charged and would have to make decisions in the timeframe that the FCC has outlined.
5G networks need a mix of low, high and mid-band spectrum. The low band carries signals over long distances; the high band does data intensive tasks and mid-band spectrum is used to deliver the high-speed data that everybody is excited about. ®