The European Space Agency is planning its second AI-powered climate-monitoring satellite, the Φ-sat-2, just days after it successfully launched its first one aboard the Vega rocket.
The ɸ-sat-2 mission (pronounced phi, a letter of the Greek alphabet) will be similar to its predecessor; it'll run computer vision algorithms to process and analyse satellite images on an Intel Movidius Myriad 2 edge chip. The software designed by Ubotica, a startup headquartered in Ireland, automatically detects clouds in the images to determine if they are interesting enough to beam back to Earth.
"We acquire huge amounts of data every day and it all has to be sent back to Earth and processed, so having some of this processing done by the satellite in orbit is clearly an efficient way forward," Josef Aschbacher, ESA's Director of Earth Observation Programmes, previously said.
It's also expected to have other AI capabilities too, such as identifying ships, monitoring large swathes of forests and detecting anomalies in images, as well as converting satellite photographs into street maps. The spacecraft is expected to follow a sun-synchronous orbit, and have a camera with a ground resolution of 4.75 meters per pixel.
"The great interest and learning experience we gathered with ɸ-sat-1 encouraged us to continue with ɸ-sat-2," said Josep Rosello, Head of Technology Coordination & Frequency Management Section at ESA. "The positive feedback we received after evaluating 16 great mission concepts for ɸ-sat-2 gives us the signal to continue preparing AI technology and issuing more ɸ-sat calls in coming years."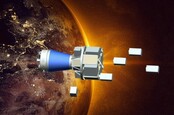 Like Uber, but for satellite launches: European Space Agency's ride-sharing rocket slings 53 birds with one bang
READ MORE
ESA wants to launch ɸ-sat-2 at the end of next year. It is currently negotiating contracts with various companies, including Ubotica, and if all goes smoothly, the bird might take to the skies in about 16 months from now.
If ɸ-sat-2 looks anything like ɸ-sat-1, it'll also be a teeny CubeSat too. The ESA successfully launched the ɸ-sat-1 last week, along with 52 other satellites. To prepare for its AI Earth monitoring missions, the space agency spun up Φ-lab, a specialised team of scientists using AI and machine learning to analyse data from other missions as well as from the ɸ-sats.
A previous ESA workshop in 2018 warned that "Europe is not keeping up with its AI capability", compared to the US and China. By launching satellites capable of running AI applications, it hopes to spur collaboration between academic institutions and private industries to develop new technologies and remain competitive with the likes of Silicon Valley. ®
Updated to add
"ɸ-sat-1 embarks a deep convolutional neural network (DCNN) to detect cloudy pixels on an hyperspectral images acquired by the Hyperscout-2 instrument," Josef Aschbacher, ESA's Director of Earth Observation Programmes, confirmed to The Register.
"The DCNN has been designed to minimize the number of weights to allow rapid and multiple uploads during the mission.""ɸ-sat-1 embarked only one CNN for one application aimed to demonstrate the capabilities and the performances of AI for cloud detection. While ɸ-sat-2 can be better identified as a flying laboratory to which we can upload several apps simultaneously and during the satellite life time," Aschbacher said.