This article is more than 1 year old
Fasthosts finally promises to stop pushing unwanted .uk domains onto irritated customers
Six years of No gets heard - but only because of legal jeopardy
UK domain registrar Fasthosts has finally promised to stop pushing unwanted .uk domains onto its customers, six years after the scheme was first launched.
In an email to long-suffering registrants this week, the registrar attempted to make light of its years of emails on the .uk equivalent to their .co.uk internet addresses by acknowledging "we're going to accept that fact that you just don't want it."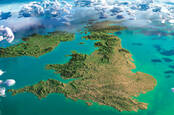 With a million unwanted .uk domains expiring this week, Nominet again sends punters pushy emails to pay up
READ MORE
"From the 7th of September we won't email you ever again about making it yours," the registrar promised before making one last-ditch effort to get people to basically pay double for the same name:
"BUT if you do have a last-minute change of heart and want to keep it, just email us at registrants@fasthosts.com or call our domain team. It'll be all yours and we'll stop banging on about Rights of Registration - forever."
The .uk domains were launched in June 2014 by registry operator Nominet, despite people questioning why they were needed at all. In order to push the policy through, Nominet agreed to a five-year period where existing .co.uk domain owners had the rights to register their .uk namesake.
The right to register expired last year, but so convinced were some registrars that people would suddenly see the light (or be fooled by ambiguous emails implying that their real domain was about to expire), that some companies registered the domains on behalf of their customers for an additional year past that time. And then hounded customers with emails to try to get the sale.
Just... one... more... year...
When they finally, finally expired, operator Nominet then joined in, sending more renewal notices to customers, even though the company remains fully aware that in nearly all cases none of those customers had ever asked for, or even wanted, the name in question. It had been added to their account without their permission or knowledge.
But, six years later, registrars are now not only having to pay to renew names but are on shaky legal ground. Up until now they had chosen to interpret Nominet's rules in a way that allowed them to keep registering .uk namesake domains and bugging the .co.uk holders to buy them.
And Nominet repeatedly turned a blind eye: no doubt the £4 for each domain registered factored into its approach. But there is now no legal backup for the shady practice, and so registrars have no choice but to let the potentially valuable domains go.
In the meantime, and never missing an opportunity to suck money out of the .uk registry for its own dubious forays into commercial markets, in July, Nominet then attempted to take over the expiration market, worth millions of pounds a year, before it was beaten back by incensed members.
Public benefit?
Incidentally, Reg reader Carl Heaton has kindly shared some graphs he produced comparing Nominet's remuneration to itself compared with the money that it has given to public benefit over the years: Nominet remains, despite all appearances, a non-profit, public-benefit member organisation by law.
Some further context for your next article maybe @kierenmccarthy pic.twitter.com/UydgTQjrsm

— Carl Heaton (@carlheaton) September 4, 2020
But back to Fasthosts, which has long played loose and fast with the rules. "We finally got the message," the email from Fasthosts to customers this week started. "After two years of nurturing [example.uk] We're going to accept that fact that you just don't want it."
If Fasthosts was an ex-boyfriend, it would have had a restraining order taken out against it years ago, in this hack's opinion.
Special thanks to Reg reader Chris Willoughby for the tip.®