This article is more than 1 year old
Gartner on cloud contenders: AWS fails to lower its prices, Microsoft 'cannot guarantee capacity', Google has 'devastating' network outages
Take your pick, folks! Latest Magic Bifurcation has some strong caveats, but little is likely to change
There's some interesting criticism in Gartner's latest "Magic Quadrant" report on Cloud Infrastructure and Platform services, which covers just seven providers, the only vendors which it considers qualify for the description "hyperscale cloud providers."
The research company has countless magic quadrants, which analyse sectors into leaders, challengers, visionaries and niche players, but this one is more of a magic bifurcation, since Gartner failed to identify any challengers or visionaries. There are three leaders, according to Gartner, and they are AWS, Microsoft and Google, in that order. The others are niche players: Alibaba, Oracle, IBM and Tencent, in order of nicheness.
AWS has a future focus on attempting to own increasingly larger portions of the value chain that delivers cloud services to customers
AWS always comes top in these reports, with Gartner stating in its latest report that Amazon's cloud "is a very strong performer in most Gartner use cases" - which was incidentally one of the things AWS bragged about in its latest complaint about not winning the JEDI contract.
Gartner also sounded a warning note for other IT companies, saying that "AWS has a future focus on attempting to own increasingly larger portions of the value chain that delivers cloud services to customers."
Pricing issues
The company does not escape criticism, though. According to the analyst, "a broad range of AWS offerings have benefited from OSS, without material contribution in kind by AWS," something which "risks alienating software developers."
Another issue, it said, is that "Customers continue to believe incorrectly that AWS reduces prices broadly; however, the decreases are often not universally applied across all services."
Storage is identified as an area that "has not experienced a price reduction since 2014," despite greatly reduced prices for storage components. Poor cohesion across the sprawling range of services is another issue.
It's not the first time AWS has been called out for this. In its 2018 report, Gartner complained that despite the rapidly declining cost of solid-state drives at the time, "the price of AWS's General Purpose SSD, known as gp2, has not decreased since 2014".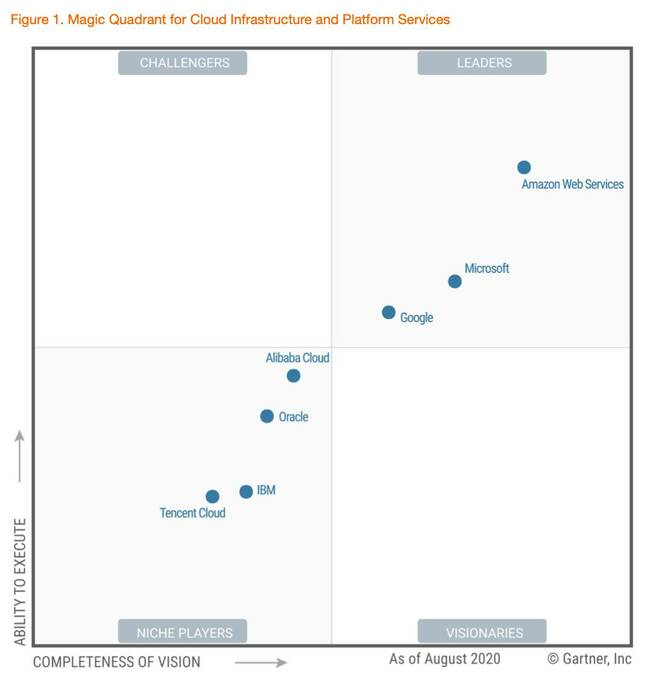 Gartner's magic quadrant for cloud ... Click to enlarge
Second-placed Microsoft was praised in the most recent report as "strong in all use cases". Gartner's researchers considered it particularly good for "extended cloud and edge" and for "Microsoft-centric organisations." They said they liked the company's approach to open source, and regarded Codespaces as "the first compelling cloud-hosted application developer environment" despite its beta status (sorry GitPod).
What's wrong with Azure? Capacity. Gartner claimed it has "the lowest ratio of availability zones to regions of any vendor in this Magic Quadrant."
Worse still, "Microsoft does not provide any form of guaranteed capacity to customers … when there were COVID-19-related customer-affecting capacity shortfalls in multiple European regions over a multiweek period, a small number of customers were unable to provision reserved instances or capacity for which they had already paid."
Remember Azure appears to be full? That is a major caveat and we have asked Microsoft for comment.
How about Google? Gartner said it is also strong for "every use case," apart from edge, which is a rather strong caveat. It has won developer "mind share" via open source Kubernetes and TensorFlow, and according to Gartner, "closed a number of critical capability gaps between GCP and Azure."
The analysts were not happy with GCP's availability record, however. "Google's much-vaunted network capabilities have been the source of a number of GCP outages during the last year, with devastating impact on customers," they wrote.
The fact that GCP is "a small fraction of overall Google revenue" is also a concern, presumably on the basis that if parent company Alphabet were to decide to change track, the cloud product set might no longer keep pace with its competition.
Smaller fry
Businesses wary of the big three could always try a more niche player. Alibaba is the market share leader in China, Gartner reported, but the international product does not have "the full capabilities of the China offering." Cloud makes up a mere 8 per cent of Alibaba Group revenues and the analysts said the segment operates at a loss for the business.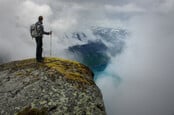 Whoa, AWS, don't slip off your cloudy perch. Google and Microsoft are coming up to help
READ MORE
Oracle was praised for its "thoughtfully architected, hyperscale cloud architecture," and ideal for Oracle's E-Business Suite (EBS). A partnership with Microsoft means customers can overcome shortfalls in Oracle's cloud products via Azure services – though Gartner warned that most customers for this partnership favour Azure as the strategic choice.
Tencent is one to watch, now bigger than IBM and Oracle, Gartner said, and a challenger to Alibaba cloud, which is mainly focused on China. It is also the only provider in this study with a region in Russia.
IBM, Gartner claimed, is best suited for lift-and-ship and hybrid scenarios. It benefits from Red Hat technology, and from the company's enterprise foothold with IBM services. Unfortunately, IBM "was 10 years late to market with cloud software-defined networking," said the analyst, has "negligible worldwide market share in the application PaaS category," and boasted "diminishing mind share among developers who perceive IBM as a provider of legacy technologies."
Despite some sharp criticisms of the big three, it is hard to see much changing in the overall picture. Cloud lock-in is real but there is also a strong case for stating that multi-cloud is the wrong answer – which means many companies will mostly shovel more money at their existing preferred provider. Microsoft will build more data centres, and AWS will continue to fail to "reduce prices broadly." ®