PUBG frags deal with China's Tencent to stay afloat in India
Quarter of game's audience is in the sub-continent, making radical action necessary
Korean games developer PUBG Corporation has tried to blast its way past India's ban on Chinese apps by ditching Tencent as its local partner.
India last week banned 118 apps it says are "prejudicial to sovereignty and integrity of India, defence of India, security of state and public order" because they have ties to China.
PUBG's eponymous shooter was on that list. But it was an oddity because the company is a South Korean concern, but licences its products to China's Tencent in some countries.
India objected to Tencent, not PUBG.
So now PUBG has announced its decision "to no longer authorize the PUBG MOBILE franchise to Tencent Games in India. Moving forward, PUBG Corporation will take on all publishing responsibilities within the country."
"PUBG Corporation fully understands and respects the measures taken by the government as the privacy and security of player data is a top priority for the company," the announcement says, adding that the company "hopes to work hand-in-hand with the Indian government to find a solution that will allow gamers to once again drop into the battlegrounds while being fully compliant with Indian laws and regulations."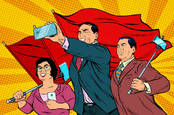 China proposes 'Global Initiative on Data Security' forbidding stuff it and Huawei are accused of doing already
READ MORE
Indians have downloaded PUBG over 175 million times, making the nation is the largest single source of PUBG players in the world and around a quarter of all players. The game has achieved that massive audience thanks to the strong performance on the lower-end smartphones and 3G networks common in India.
China and India are in talks about the latter's new round of bans. But India's software-self-sufficiency plan explicitly includes games and the country is not afraid to anoint local software cloners as a patriotic choice, so PUBG and other banned games may face a long road back. ®