Go Huawei, Android: Chinese telco biz claims it will spread Harmony OS for smartphone to devs come December
Homegrown system – previously a 'lightweight' OS for IoT – punted onto smartphones
After years of speculation, Huawei has confirmed it will release the homegrown Harmony operating system for smartphones, theoretically posing a direct challenge to the enduring Android and iOS duopoly.
The threat confirmation came from Huawei's Consumer Business Group head Richard Yu, who was speaking at the firm's virtual Developer Summit. The code available to developers from today, Harmony OS 2.0, will target only smartwatches, TVs, and vehicle infotainment systems. Huawei claimed a second release of Harmony OS, aimed at smartphones, will become available to developers in December.
Yu came short of officially announcing a new device running Harmony OS, but hinted: "Maybe starting from next year, we'll see smartphones with Harmony OS."
This decision contradicts previous protestations from Huawei, which insisted it was committed long term to Android, come what may. Those voices were echoed long after the Trump administration imposed its crushing ban on the company, which prevented it from licensing the Google Mobile Services (GMS) suite of software, which includes essential day-to-day apps like Google Maps, Gmail, and the Google Play Store.
The current Harmony OS, which is essentially a lightweight OS for IoT, differs from other platforms, like iOS and Android, which are respectively based on XNU-Mach-BSD-ish and Linux kernels. Instead, Huawei uses a homegrown microkernel purpose-built for operating in various different form-factors, paired with a bespoke runtime. Apps, meanwhile, are built using Huawei's ARK compiler, which natively supports Java, C/C++, JavaScript, and Kotlin.
Atop of the forthcoming iteration will likely sit much of the distribution technology, APIs, and ecosystem elements created by Huawei in its effort to build an alternative to Google Mobile Services. In a relatively short amount of time, Huawei Mobile Services (HMS) has evolved to incorporate the tools required to handle routine app elements, like in-app payments (IAPs) and DRM. The firm has also created a bevy of adjacent products, including a voice assistant called Celia and various music and movie stores.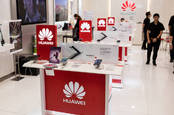 Can't do it the US way? Then we'll do it Huawei – and roll our own mobile operating system
READ MORE
Open source-ish
Like Android and XNU, Harmony OS has large open-source elements, which Huawei intends to release under the OpenHarmony program. This program will take a staggered approach, initially supporting devices with between 128KB and 128MB of RAM – which would theoretically account for basic feature-phone devices, as well as IoT products. By April next year, Huawei has claimed that RAM limit will be lifted to incorporate devices with more than 4GB of RAM, which would extend to consumer portables like tablets and smartphones.
By releasing a free software variant, Huawei would be mirroring the strategy taken by Google's Android Open Source Program, which offers the base Android OS minus the firm's proprietary blobs. It's not yet known whether Huawei intends to license its ecosystem to rival third-party smartphone vendors, or whether they'd be required to build their own distribution and content platforms on top.
Should Huawei go down the licensing path, it runs the risk of diluting its device volumes, but would potentially be able to expand Harmony OS's footprint – and, crucially, the amount of revenue it can generate from services.
Then again, China's not your average smartphone market. The absence of Google means local manufacturers have been forced to create their own ecosystems. Thus, there are dozens of indigenous app stores competing in the Middle Kingdom. Those manufacturers and vendors would be loath to give up that revenue. We've asked Huawei for further information.
Coulda been a contender...
Harmony OS follows a long line of mobile operating systems that died in the face of Android, or tried and failed to disrupt the status quo, including Symbian, Windows Phone, BlackBerry 10, Firefox OS, and Tizen. Can Huawei succeed where others have faltered? Analyst Ben Wood of CCS Insight isn't optimistic, saying "If history is an indicator, Huawei has a mountain to climb."
"There have been rumours about Harmony OS being adapted for use on smartphones since it was first unveiled in August 2019. That said, it was always intended to be a lightweight OS for IoT devices and other products like smartwatches, so the leap to offering a fully featured platform for smartphones is a large one.
"Although Huawei has indicated that it intends to have a version for smartphones in 2021, I remain cautious about what it will really be able to deliver. Furthermore, the track record for alternative operating systems for smartphones is dismal – be it BlackBerryOS, Samsung's Tizen, Palm's WebOS or Microsoft's Windows Mobile," he added.
Echoing those sentiments was Paolo Pescatore of PP Foresight, who said: "Others have tried and failed. Ultimately, Huawei needs to work tirelessly in driving support among developers to foster a vibrant content and services community."
Pescatore added that Huawei carries a tremendous amount of baggage in the West, as a direct consequence of the US pressure campaign against the firm. The success of Harmony OS will depend as much on Huawei's ability to counter that, as it does the firm's efforts in courting third-party developers.
"Users are starting to become wary given the negative commentary surrounding Huawei. Therefore, expect Huawei to go on a huge charm offensive to regain users trust and confidence. For now, it is hard to see Huawei knocking established rivals off their perch with Harmony OS," he said.
Forrester principal analyst Charlie Dai, meanwhile, noted: "The bans by US government have critical impact towards Huawei's smartphone business in overseas markets. To sustain its consumer business operations, Huawei made strategic investment in the technology ecosystem around Harmony OS, which has successfully powered Huawei's smart TV products and built the foundation for market adoption in PC and connected cars.
"Huawei has also made substantial technology progress for its HMS as the alternative for GMS, in areas like audio, video, and augmented reality, which effectively drives the growth of its developer ecosystem mainly attributed to domestic market in China. "The bans leave Huawei no choice but to accelerate research and development to build an open technology ecosystem of its own around smartphones, from hardware to software. It's a tough journey but Huawei must go through it to survive and thrive. Consumer behaviors in the overseas market cannot be easily changed; however, at the end of the day, customer experience matters the most and Chinese market is big enough for Huawei to stay alive by continuously strengthening its products and growing its ecosystems." ®