This article is more than 1 year old
Microsoft to charge $200 for 32 GPU cores, sliver of CPU clockspeed, 6GB RAM, 512GB SSD... and a Blu-Ray player
That's the price and specs difference between full XBOX X and its smaller all-digital XBOX S sibling
Microsoft has announced a new cut-down and teeny-weeny XBOX.
No, Redmond's gaming unit hasn't suddenly decided that the already-revealed XBOX Series X isn't up to scratch. Instead it's decided to offer a slightly-less-capable all-digital Series S "built to easily fit into your home and lifestyle" and "perfect for digital-first gamers and our fans who want to bring their games with them wherever they play."
Translation: it's small, pretty, and doesn't have an optical drive.
And it will cost $200 less than the $499 full XBOX X.
The smaller device has a 3.6GHz-clocked processor compared to the 3.8GHz unit in the beefier box. Both are eight-core AMD second-generation Zen components. The all-digital Series S has an AMD RDNA 2 GPU with 32 fewer compute units that are 0.26GHz slower than the 52 1.825GHz CUs in the Series X. The 10GB of RAM in the all-digital S is smaller than the 16GB in the X. And the S has just half of the X's 1TB of SSD, and no Blu-Ray.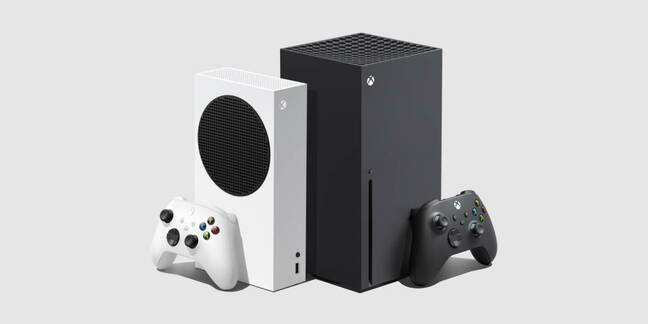 The one on the left is the Series S. Click to enlarge
The all-digital Series S can therefore only run games from its hard drive or a storage attached to its USB port. And that wimpy 20-CU GPU means it's primarily targeting 1440p video at 60 to 120 FPS instead of the 4K the more expensive machine is comfortable running.
And that's an important difference because 4K displays aren't cheap, and Microsoft's chats with customers found that many gamers "prioritize framerate over resolution." The Series S can upscale from 1440p to 4K in hardware if you really want to hook it up to a higher-res screen.
Both devices are set to go on sale ahead of the end-of-year holiday season, according to a teaser video this week, which will be a fillip for retailers as new consoles generally create lots of cash flow. Microsoft had previously warned that COVID-related supply chain problems could delay its new console. ®