Huawei has claimed to be prepping its Android-challenging homegrown mobile operating system, but still has to look after its existing smartphone customers.
The embattled Chinese organisation yesterday announced the latest version of its EMUI Android skin, which brings improved multitasking features as well as other "nice-to-haves," including an overhauled Always on Display.
EMUI 11 doesn't actually run on Android 11 (several years back Huawei, er, harmonised its EMUI version numbers with the Android flavour they were based on, meaning EMUI 9 was based on Android 9, EMUI 10 on 10 and so on). However, EMUI 11 is based on the previous release of Mountain View's mobile operating system, Android 10, rather than the fresh release, Android 11.
We all know the reason for that: the placement of Huawei on the Entity List by the Trump Administration, which prevents Google from transferring technology or otherwise doing business with the firm.
For what it's worth, Google just uploaded the source code to the open-source version of Android 11. This opens the door to Huawei achieving some level of parity later down the line.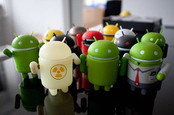 Huawei taps ex-Nokia devs for 'secret phone OS project'
READ MORE
Got a Mate?
With that out of the way, what's new in EMUI 11? As you'd expect, there are some significant skin-deep changes. In addition to showing the time, the Always On Display tech now lets you add a bit of flair, with some Piet Mondrian-inspired modern art imagery. If that's your thing. Transition animations, like those produced when you open a new app, have also seen a major overhaul, supposedly to improve user focus.
Separately, multitasking got some love with a new Smart Multi-Window, which purportedly lets you switch between apps faster. Devices with larger displays – like Huawei's foldable phones – can open two apps simultaneously in floating windows, with the home screen in the background, giving the device a more PC-like feel.
On the security front, EMUI 11 lets users strip images and files of metadata before sending them on, while app permissions are tightened to prevent software running in the background to access sensitive aspects of the device's hardware, such as the microphone or camera.
Huawei also paid some attention to the wider EMUI ecosystem, bringing support for Italian and German in the firm's Siri alternative, Celia. Historically, Huawei has performed extremely well in Western Europe, and while minor, these localisation tweaks might help make its own spin of Android a little more appealing to those key markets.
EMUI 11 will begin rolling out to users of the beta programme later this month, with a wider general release expected not long after.
While we're talking about ecosystem gubbins, Huawei said its HiCar automotive software - which serves as an alternative to Android Auto and Apple Carplay - has racked up several deals in the transportation space and that HiCar was now compatible with over 150 car models.
Huawei hopes to have its software on 5 million vehicles by next year, allowing customers to access their apps and make calls from behind the wheel. Don't count on seeing many of them outside of the Middle Kingdom, however. ®