This article is more than 1 year old
NASA is sending two small hand-luggage suitcase-sized spacecraft into the void to study binary asteroids
Janus mission seeks solution to orbiting space rocks in the Solar System
NASA is splashing $55m on a new space mission to send two small camera-carrying spacecraft into the heavens to study a type of an object in our Solar System that has yet to be observed in detail: binary asteroids.
Asteroids are typically lone chunks of dirt and rock that travel around larger bodies like the planets or the Sun. But sometimes they come in twos and orbit around each other. They're less common than their single cousins; about 15 per cent of all asteroids in the Solar System are locked in binary orbits.
The mission named Janus, after the Roman god with two faces, will study how these objects form and the various states of their orbits. "Binary asteroids are one class of objects for which we don't have high-resolution scientific data," said Daniel Scheeres, a professor focused on astrodynamics and satellite navigation at the University of Colorado Boulder, and Janus principal investigator. "Everything we have on them is based on ground observations, which don't give you as much detail as being up close."
A pair of 180kg spacecraft will be sent to spy on binary asteroids, named 1996 FG3 and 1991 VH. "Each spacecraft carries a visible imager and an IR imager that will take pictures of the systems throughout the flyby," Scheeres told The Register.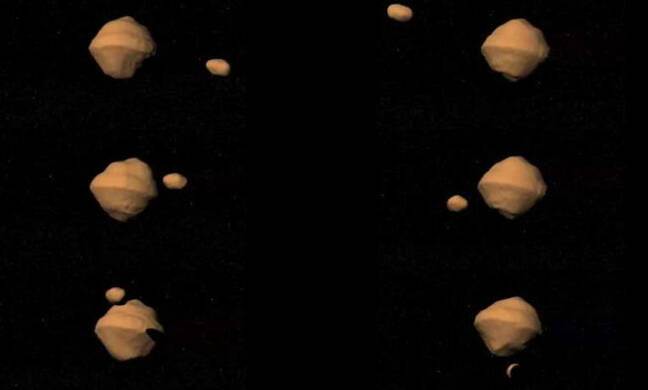 A dance to the music of time. Credit: NASA/JPL. Click to enlarge
"This is a bit similar to driving by a roadside attraction, going at a constant speed, and being able to take pictures of the attraction through the whole drive-by."
The team will study how they dance around each other. "[1996 FG3] is thought to be trapped into a very stable equilibrium state - our observations will help understand why this is so. The other system is actually in a very chaotic state, and the [smaller asteroid] is spinning at a different rate than its orbit rate. This situation is like if the Moon didn't rotate synchronously with its orbit, then every time we would look at the moon we would see a different 'face'," he explained.
NASA has given CU Boulder the thumbs up to start the final stage of designing the hardware for the spacecraft. To help with the process, CU Boulder has employed Lockheed Martin to help manage the project and put together the probes.
"Janus will deliver big science in a small package," said Thomas Zurbuchen, NASA's associate administrator for the Science Mission Directorate.
It falls under SIMPLEx, a new class of mission aimed at launching smaller spacecraft that can hitch a ride on other NASA launches. "This SIMPLEx mission is the first such targeted science mission developed at reduced overall costs using new streamlined processes, while testing innovative technologies for use by future missions."
Janus is expected to launch sometime in 2022, and it'll take the spacecraft about four years to visit both binary asteroid systems. ®