A court hearing on election security in America failed in its own security efforts – when it was zoombombed with porn, swastikas and images of the World Trade Center attacks.
The public hearing in an Atlanta federal district court on Friday had approximately 100 people on a Zoom conference call before it was taken over by a participant named Osama who shared his screen and showed offensive images complete with music. At least one other person did the same. The images were particularly offensive as the hearing itself was being held on the anniversary of the September 11, 2001 attacks.
The court ended the Zoom session, and restarted it an hour later with additional security measures, including a virtual waiting room. Instead of sharing exhibits themselves, attorneys emailed them to the court and a staff member shared them.
Court clerk James Hatten told The Register the problem arose when the Zoom call was opened up to share exhibits, and the software enabled any participant to do the same.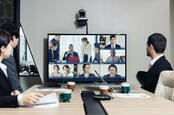 Now that's a somewhat unexpected insider threat: Zoombombings mostly blamed on rogue participants, unique solution offered
READ MORE
Under a different license, it is possible for a Zoom host – in this case, the court – to designate specific participants as "panelists" and give them additional sharing rights, rather than open it to everyone. Hatten explained the court will shortly be moving to that license. "It's been a little bit of a learning curve," he confessed.
Courts have been increasingly using video conferencing as a way to continue processing cases during the COVID-19 pandemic; Zoom's defaults and a lack of experience continues to cause problems. The link to this hearing was made public and the court did not vet participants.
The court has a record of the participants, and Hatten said it has already contacted law enforcement and would leave it up to them to determine whether a crime has been committed. The interruption would almost certainly be viewed as contempt of court but pragmatically, a judge is not in a position to do anything about a pseudonymous person on an online conference call.
A crime?
Federal prosecutors have made it plain in the past that they consider Zoombombing to be a crime that they are willing to charge people over. Back in March, Michigan's top law officials put out a statement warning that "anyone who hacks into a teleconference can be charged with state or federal crimes. Charges may include, to name just a few, disrupting a public meeting, computer intrusion, using a computer to commit a crime, hate crimes, fraud, or transmitting threatening communications."
The statement also noted that "all of these charges are punishable by fines and imprisonment."
Just this month there was what may be the first case of someone charged with zoombombing: 19-year-old Ibraheem Ahmed al Bayati is accused of interrupting classes by threatening, during an online Zoom lecture, to bomb the University of Houston.
But less egregious examples of zoombombing have been dealt with differently. Last month, the small town of Sylva in North Carolina decided that no crime had been committed when its town board meeting in June, taking place over Zoom, was disrupted by participants shouting racist abuse.
We asked Zoom for details over how it deals with zoombombing, particularly when it comes to requests and complaints from law enforcement. The biz sidestepped those questions, with a spokesperson telling us: "We have been deeply upset to hear about these types of incidents, and Zoom strongly condemns such behavior. We have recently updated a number of default settings and added features to help hosts more easily access in-meeting security controls, including controlling screen sharing, removing and reporting participants, and locking meetings, among other actions.
"We encourage users to report any incidents of this kind to Zoom and law enforcement authorities so the appropriate action can be taken against offenders." ®
Similar topics