Bad apples: US customs seize OnePlus earbuds thinking they're knock-off AirPods
They're the real thing... just not the thing they look very much like
Updated US Customs and Border Protection (CBP) is tasked with protecting the country from terrorists, clandestine immigrants, agricultural pests, and anyone with a funny accent. Add to that list Chinese tech brand OnePlus, which has had 2,000 of its wireless earbuds seized under the belief that they were counterfeit Apple AirPods.
THAT'S NOT AN 🍎 —

CBP officers at JFK Airport recently seized 2,000 counterfeit Apple AirPods from Hong Kong, valued at $398K had they been genuine.

Details via @CBPNewYorkCity: https://t.co/XMgjkfT56i pic.twitter.com/Ofn9REJ9ZB

— CBP (@CBP) September 14, 2020
The border cops intercepted the in-ear speakers at New York's JFK Airport, with the kit en route to Nevada from Hong Kong. While OnePlus Buds do bear a passing resemblance to AirPods (they're white and use a similar dangling antenna design), they're an otherwise completely distinct product with their own branding, packaging, and case design.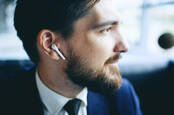 Lobes carry the load, says IDC: 'Hearables' sector accounts for half of all tech clobber sold
READ MORE
According to CBP, if the seized buds were actual AirPods, they'd have an estimated retail price just under $400,000. OnePlus Buds, by the way, are valued at $79 apiece, meaning the shipment was worth $158,000 in total.
"CBP Officers are protecting the American public from various dangers on a daily basis," said Troy Miller, director of CBP's New York Field Operations, in a statement. "The interception of these counterfeit earbuds is a direct reflection of the vigilance and commitment to mission success by our CBP Officers daily."
Vigilance. Commitment to mission success. Yes.
El Reg reached out to OnePlus, which declined to comment on this story, although its US branch tweeted: "Hey, give those back!" We've also contacted CBP for comment, and will update this story if we hear back. ®
Updated to add
In a statement emailed to The Register, a CBP spokesperson defended the seizure. "Upon examining the shipment in question, a CBP Import Specialist determined that the subject earbuds appeared to violate Apple's configuration trademark," the spokesperson said.
"Apple has configuration trademarks on their brand of earbuds, and has recorded those trademarks with CBP. Based on that determination, CBP Officers at JFK Airport have seized the shipment under 19 USC 1526 (e). CBP's seizure of the earbuds in question is unrelated to the images or language on the box. A company does not have to put an 'Apple' wordmark or design on their products to violate these trademarks. The importer will have many opportunities through the adjudication process to provide evidence that their product does not violate the relevant recorded trademarks."