This article is more than 1 year old
That long-awaited, super-hyped Apple launch: Watches, iPads... and one more thing. Oh, actually that's it
OK, fine. Blood-oxygen level monitoring, hexa-core 5nm Arm processors, TV packages...
The tagline for today's Apple product launch event was "time flies." How ironic given 2020 feels like it's been a decade long.
Expectations were inevitably raised. And what did we get for our patience? New watches, a refreshed iPad and iPad Air, and… that's about it.
Watch this space
Apple's third-quarter successes were driven in part by its "wearables, home, and accessories" segment, which grew 16 per cent to $6.45bn against the previous year's $5.525bn. Separately, analysts are expecting smartwatches to enjoy a period of sustained growth in the coming years, driven by a greater health awareness among folks. It's perhaps therefore no surprise that Apple saw fit to slather this category with love at today's online-only shindig.
At the top of the pile is a new Apple Watch Series 6. Available in blue, gold, and graphite flavors, as well as a (PRODUCT)red variant, this wearable comes with an overhauled health sensor capable of reading blood oxygen levels. This works by shining red and infrared light on the wrist, with the watch calculating O2 levels based on the amount of light reflected back. Measuring this takes 15 seconds.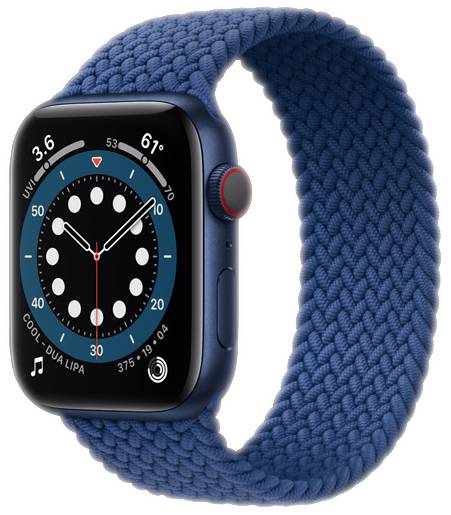 Apple Watch Series 6 with braided band ... Source: Apple
Under the hood is an Apple Silicon S6 system-in-package processor, which is designed to be more power efficient than previous generations. This translates to a brighter always-on display, and an altimeter that's constantly measuring readings.
Band options remain varied, with Apple launching a new choice called Solo Band. This is a contiguous and unbroken strip of silicone or braided yarn, with no buckles or notches. There's also the usual silicone and metal offerings, as well a Hermes design for the rich and tasteless. When it hits shelves on Friday, it'll retail from $399.
Separately, Apple's also introducing a new bargain-basement (well, almost) watch for those unwilling to spend a month's mortgage payment on a fancy new wrist-puter. Mimicking the nomenclature of Cupertino's cheapest iPhone, the Apple Watch SE comes with a pricetag of $279. The iSlinger also plans to continue selling the older Series 3 watch as a cheaper still option, at $199.
The iPad gets a refresh
As expected, Apple used the event as an opportunity to overhaul its entry- to mid-level iPad variants. The bog-standard iPad saw the most modest upgrade, with the form-factor remaining unchanged, but the processor upgraded to the Apple Silicon A12 chip. Pricing remains at $329, or $299 for education customers, for this eighth-generation fondleslab.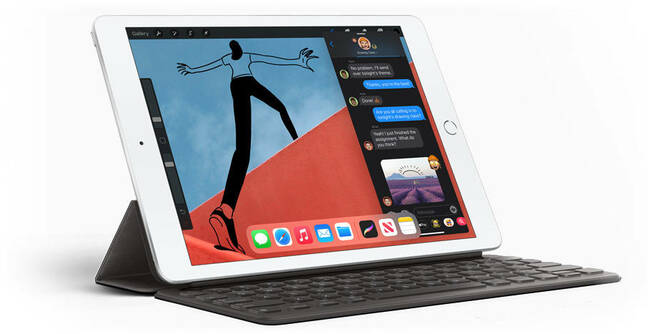 The eighth-generation iPad ... Source: Apple
And then there's the iPad Air, which is somewhat of a curious duck. If the iPad Pro is aimed at professionals, and the bog-standard iPad is best suited to educational and netizen use, the Air occupies the hinterlands in-between.
It's not immediately obvious what its raison d'etre is. As a mid-ranger, it comes with a more powerful processor, along with a marginally larger screen than Cupertino's entry-level iPad. And that's about it.
This refresh doesn't buck that trend, although it's notable for being the first Apple device to use the Silicon Valley goliath's newest hexa-core A14 Bionic processor, leapfrogging the delayed iPhone 12. This chip uses a 5nm fabrication process, contains 11.8 billion transistors, and touts an overhauled quad-core GPU and a 16-core neural-network accelerator.
According to Apple's benchmarks, the A14 touts 30 per cent faster graphics performance against the A12. AI performance is similarly boosted, with the A14 twice as fast as its predecessor.
Separately, the iPad Air comes with a new iPad Pro-like design, with a boxy aesthetic and straight sides. The screen is increased to 10.9 inches, while the Liquid Retina display offers a resolution of 2360x1640. TouchID remains stubbornly present in the iPad Air, allowing fingerprint-based authentication. This has been moved from the Home button, and now sits atop the power button.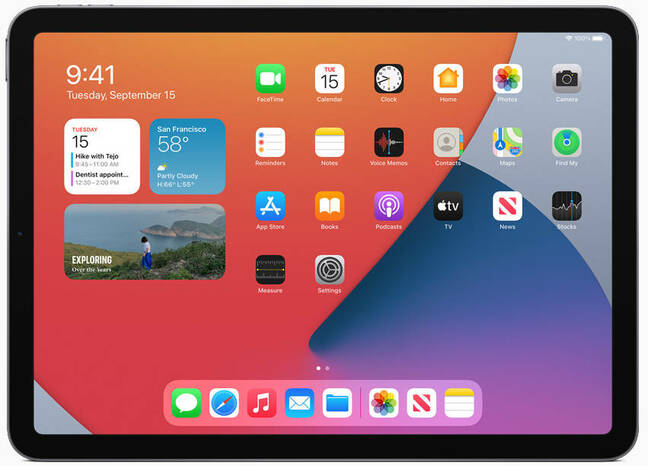 iPadOS 14 running on an iPad Air ... Source: Apple
It's also worth mentioning that this effort ditches the Lightning port for USB-C. That ain't a bad thing, mind you. USB-C brings a degree of commonality with other devices, allowing punters to charge the iPad Air with the same cable used for their laptops and phones. When it hits shelves, it'll have a price tag of $599. The iPad Air and eighth-gen iPad also come with iPadOS 14.
Services get bundled
Tim Cook's time at the helm has been characterized by an emphasis on services, with Apple launching alternatives to the likes of Spotify and Netflix. Following that trend, Cupertino used today's event to introduce an alternative to Peloton, called Apple Fitness+, which offers on-demand fitness classes and training.
Building upon that is Apple One, which bundles Apple's various subscription services into a single monthly payment. The package retails at $14.95, and includes Apple TV+, 50GB of iCloud storage, Apple Music, and the firm's Arcade game subscription service. Pay double, and you get 1TB of storage, as well as Apple News and Fitness+.
All quiet on the iPhone front. And the computer front. And the AirTags front
As widely expected, today's launch event was a modest affair. We didn't get a new iPhone. Nor did we see any new Apple Silicon computers. Meanwhile, the long-rumored Tile competitor believed to be called AirTags is nowhere to be seen.
Instead we got two tablets (well, one and a bit: the basic iPad is largely unchanged), and two new watches.
But we did see a greater emphasis from Apple on recurring subscriptions, with the Cupertino idiot-tax operation eagerly trying to corral its punters into an ever-closed ecosystem of services. That's fairly canny, and will help Apple chip away at Spotify's market share.
We also saw the same repetitions of Apple's purported eco-friendliness, which will this time be put into practice by removing the USB power adapter from its Apple Watch line-up: the gizmo to wirelessly charge the smartwatch is included, but the USB adapter feeding it is not.
It's hard to take this seriously, though, given Apple's computer line-up (which eclipses the Apple Watch in terms of revenue) is largely designed to be impossible to repair and maintain.
It's worth noting that the #AppleEvent hashtag, specially set-up with Twitter and complete with a little Apple logo, used to announce today's stuff is expected to remain active for a while, so don't discount the possibility of a second product launch later in September or October, which will quite possibly reveal the inaugural Apple Silicon Macs as well as a flock of new iPhones. ®