This article is more than 1 year old
Tesco self-service separates innocent Reg reader from beer after collapsing into heap of Windows dialog boxes
Is that... XP? Can't be – venerable OS expired last year
Bork!Bork!Bork! An old favourite returns this week as a Tesco self-service terminal gets a bit forgetful in its operating system's dotage.
Spotted in the fair UK town of Basingstoke by Register reader Ian, who told us he had merely popped in to pick up some washing-up liquid ("the beers were entirely accidental"), the cashier replacement in this branch of the grocer is in some distress.
In this case, SCOTAppU.exe seems to be having an off day, and the underlying operating system is not happy at all. The offending application might be an emission from POS flinger NCR, but it seems that ringing up £7.48 of purchases has proven too much for Windows, which is bleating about a lack of virtual memory.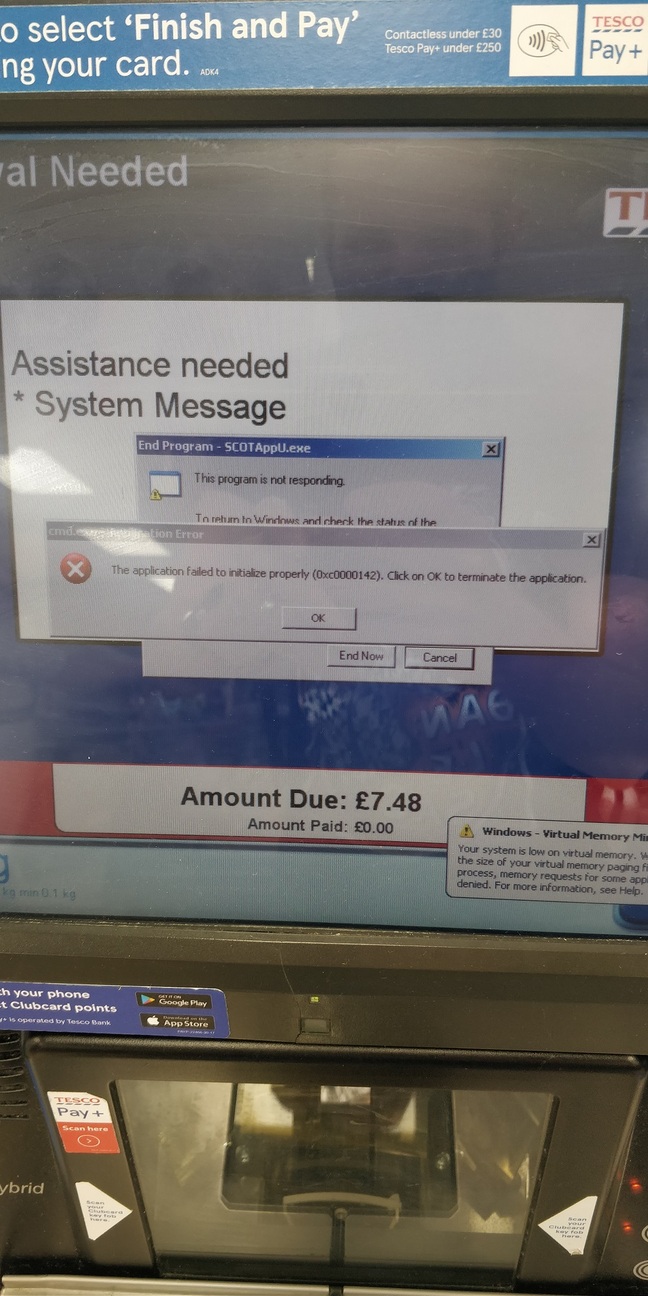 Click to enlarge
Indeed, the style of that virtual memory warning calls to mind Windows XP. But that can't be right. The very last edition of Windows XP, Embedded POSReady 2009, finally reached the end of the road a year ago. It can't still be lingering on, haunting the nightmares of shoppers (even those who managed to spend £7.48 on a bottle of washing up liquid and bag-for-life full of beer).
Speaking of horror, the screen itself looks a little smeary. One can but hope it has not suffered the infamous faecal fate of some other public-facing touchscreens. Either way, a wash of the hands would be a good idea before tucking into that beer.
The bork itself occurred mid-transaction, with Windows unable to even allow the readies to be slurped from our reader's cash card before collapsing in a quivering heap of whatever Windows is made of.
"That £7.48 is a drop in the ocean for Tesco," grumbled our reader, "certainly not enough to make updating their godawful self-scan tills a priority."
Tesco is not the only user of SCOTAppU.exe. Reddit users spotted the application in Walmart a few years ago. Disappointingly, rather than something that might indicate origins north of the border, Self Check-out Application is the leading candidate for the name.
The Register contacted the retailer to find out what fate had befallen the bagging area berater, and if that could be a sighting of Windows XP still in the wild. We have yet to receive a reply. ®