This article is more than 1 year old
Another week, another dual-screen phone, this time a T-shaped LG thingamy
'Wing' has one big screen and one little screen, no price or release date
LG has given the world another twist on the dual-screen phone.
We've already had the Galaxy Z Fold2 from Samsung, which suggests Psion-style micro-clamshell operations and the horribly-hard-to-repair Surface Duo from Microsoft, which suggests using it like a book.
LG's idea is for one screen to twist to form a "T" shape, as depicted below.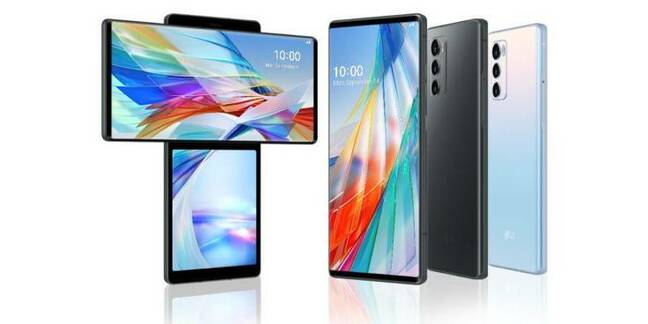 The LG Wing.
The screen that forms the cross-bar of the T in the image above rotates into place from a position in which it completely covers the screen that forms the stem.
The twisting screen is the main monitor and is a 6.8-inch affair at 2,460 x 1,080. The smaller screen is a 3.9-incher at 1,240 x 1,080.
Out the back you'll find three cameras at 64MP, 13MP and 12MP. The selfie-shooter is a 32MP unit. LG's made it possible to use forward-and-rear-facing cameras simultaneously. LG says the phone also behaves as a Gimbal, the device that lets cameras pan, tilt and roll smoothly.
A Qualcomm Snapdragon 765G is under the hood along with 8GB of RAM and either 12GB or 256GB of storage, plus a micro-SD card slot for storage expansion.
LG suggests the device's two screens either show different aspects of one app, or display two apps. In the latter mode the company thinks kids might texting while they watch movies on tellie by letting them text on the small screen while watching on the large one. In the former mode it wants developers to learn how to stretch their apps and has info on how to do so here.
LG did not disclose the device's price or when it will go on sale but has done deals with carriers to bring it to market. ®