This article is more than 1 year old
Singapore to test compulsory COVID-tracker usage as condition of entry to some venues
Wearable tracker now being distributed for those who don't fancy smartphone surveillance
Singapore test compulsory use of COVID-tracking tech as a condition of entry to some venues.
The city-state was among the first to introduce a contact-tracing smartphone app and later introduced a dumb device for those who don't fancy, or don't own, a smartphone. Both are branded "TraceTogether".
The dumb device made it to market yesterday and is free to any citizen or resident who wants one. The device uses Bluetooth to ping nearby devices and, when it finds either a token or app present, exchanges encrypted IDs to allow later contact-tracing in the event of an encounter with a COVID-19-carrier. The device is water-resistant, should last six months without a change of battery, and is a small white box that resembles an Apple AirPods case. A large loop lets the device be worn on a lanyard or attached to a key ring.
The debut of the device means no Singaporean need be without a contact-tracing gadget.
And it appears that Singapore wants no Singaporean to be without one.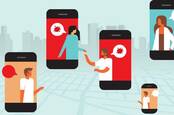 COVID-19 tracing without an app? There's an iOS and Android update for that
READ MORE
Vivian Balakrishnan, the minister in charge of Singapore's Smart Nation initiative, announced trials of "TraceTogether-Only SafeEntry for high-risk activities and venues." Singapore hopes to soon allow gatherings of up to 250 people at venues such as theatres or conference centres.
Minister Balakrishnan declared that use of contact-tracing tech will make that possible.
"This will enable us to open up safely in the coming weeks and months," he said on his Facebook feed. "I am encouraged that TraceTogether has been downloaded 2.4 million times to date. I urge everyone to be protected by the TraceTogether Programme, using either the App or the new Token. We are all safer - together." ®