This article is more than 1 year old
With no viable alternatives, big names flock to Adobe's cloudy wares amid global pandemic
The new normal is all right for some
Disruptions caused by COVID-19 continue to play into Adobe's hands with company execs last night toasting doubles all round as sales went up 14 per cent to $3.23bn year-on-year and pre-tax profit leaped 26.5 per cent to $1.06bn.
Talking on an earnings conference call with Wall Street types, CEO Shantanu Narayen said: "Entire industries, from media and entertainment to pharma, retail, automotive and financial services, have had to pivot overnight to digital operations to engage with customers and ensure business continuity. Electronic workflows and signatures are the only way to efficiently complete business transactions."
The world, Narayen added, has changed in a way no one foresaw. "This reality has created new tailwinds for Adobe."
For the quarter ended 28 August 2020 [PDF], the Digital Media division was up 19 per cent to $2.34bn: Creative revenue climbed 19 per cent to $1.96bn; and Document Cloud was up 22 per cent to $375m.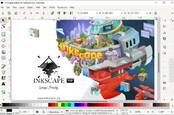 Adobe Illustrator's open source rival Inkscape delivers v1.0.1 - with experimental Scribus PDF export
READ MORE
The boss man claimed Creative Cloud benefited again from record traffic to Adobe.com and growth in mobile app usage thanks to "improvement in retention, driven by increased engagement and product usage among individuals, teams and enterprises; outstanding performance in the imaging and video categories with Photoshop, Lightroom and Premiere Pro".
Document Cloud saw hefty gains in Acrobat web monthly average use, Mobile installs were up 33 per cent in the year-to-date. Customers wins included Citi, PwC, Pepsi, HSBC, Merkle, and J-Power.
"The shelter-in-place requirements instituted across the globe created a heightened sense of urgency among all companies to accelerate their digital transformation," the CEO said. "Overnight, small, mid-sized and large B2C and B2B companies shifted every aspect of their customer relationships, from acquisition all the way through renewals, to digital."
Annualised recurring revenues (ARR) for Digital Media increased by $458m quarter-on-quarter to $9.63bn, up 24 per cent year-on-year. Creative ARR grew to $8.29n and Document Cloud ARR grew to $1.34bn.
In Digital Experience, overall revenue was $838m, up from $821m a year ago, while subscription revenue was up 7 per cent to $729m. Excluding Advertising Cloud, subscription revenue rose 14 per cent. Logo wins here included Nike, Shell, Lloyds, and the US Department of Commerce.
Adobe also signed a partnership with IBM and Red Hat for Experience Cloud "deployment in hybrid cloud environments that further strengthens real-time data security for enterprises in regulated industries", said Narayen.
Adobe is exiting the Advertising Cloud and working with customers to "wind-down our transaction-based offerings", which explains the relatively crappy percentage growth in that division of 2 per cent. ®