This article is more than 1 year old
Top Chinese central banker says Beijing's digital currency must be restricted to big commercial banks
Alibaba and Tencent left to offer mediated wallets rather than potentially become private currencies
A deputy governor of the People's Bank of China has revealed more about the nation's plan for a digital currency, and the news isn't good for alternative payment systems run by the likes of Alibaba and Tencent because it appears they won't get the chance to go head-to-head with Banks.
Writing in the Bank's own organ, Financial News, deputy governor Fan Yifei first explained the role of central banks as issuers and guarantors of fiat currencies, and commercial bankers as facilitators of transactions using those currencies. Yifei said this system works because no single bank can create or sustain a private currency, and even if it could the interoperability requirements of state and private currencies is sand in the gears of commerce.
He also explained that China's intention with its Digital Renminbi is to replace cash, that the binary currency will be a substitute for cash under all circumstances and that merchants will not be able to insist on cash or current modes of transferring funds when conducting transactions.
The deputy governor further noted that Chinese laws state that only commercial banks may offer currency exchange, cash deposit and withdrawal services.
He wants that rule to continue.
"In order to ensure the security and stability of the Digital Renminbi system, it is necessary to prudently choose a commercial bank with strong capital and technology as the designated operating institution to take the lead in providing digital renminbi exchange services," he wrote. Only commercial banks, he added, understand the needs of customers and the risks of providing large-scale services.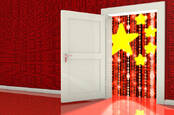 China testing digital currency, but rollout looks to be slipping
READ MORE
Yifei did not rule out participants like AliPay and WePay offering the chance to transact in the Digital Renminbi, but said China would prefer commercial banks to provide digital wallets.
Such arrangements are not entirely unusual: around the world a web of banks, card issuers, card networks and payments processors all make it possible to spend fiat currencies. In recent times card tokenization plays such as Apple Pay and Google Pay extend the reach of payment cards into digital devices.
The deputy governor appears to have suggested that China retain that sort of arrangements, with big commercial banks providing digital-currency-as-a-service for other players like Tencent and AliPay.
Yet both Tencent and Alipay are enormous, run technology at exceptional scale, and already conduct hundreds of millions of transactions a month using their respective payment systems. Yifei's remarks seem aimed at keeping those transactions running on rails set by commercial banks controlled by China's big banks and therefore managed and regulated by its central bank. ®