This article is more than 1 year old
Good: US boasts it collared two in Chinese hacking bust. Bad: They aren't the actual hackers, rest are safe in China
Ugly: And it's all about video game robberies at this stage
Two people have been arrested in Malaysia as part of America's crackdown on the Chinese government's hackers.
The two men, both Malaysian nationals, are not accused of breaking into computer networks. Rather, it is claimed, they operated the storefronts where hacked goods were peddled. Specifically, it is alleged they ran websites that resold character equipment and in-game currency stolen by miscreants from online video game players.
Wong Ong Hua, 46, and Ling Yang Ching, 32, face 23 criminal counts in the US, including racketeering, conspiracy, identity theft, aggravated identity theft, access device fraud, money laundering, violations of the computer fraud and abuse act, and falsely registering domain names.
Those two are likely going to be the only ones cuffed and sent to court to face a judge, at least for the foreseeable future. Five other people charged in connection with the above pair are all Chinese, and are living in China from which extradition to the States is rather unlikely.
"Today's charges, the related arrests, seizures of malware and other infrastructure used to conduct intrusions, and coordinated private sector protective actions reveal yet again the department's determination to use all of the tools at its disposal and to collaborate with the private sector and nations who support the rule of law in cyberspace," boasted assistant US Attorney General John Demers.
"This is the only way to neutralize malicious nation state cyber activity."
The five charged Chinese nationals – Zhang Haoran, 35, Tan Dailiin, 35, Jian Lizhi, 35, Qian Chuan, 39, and Fu Qiang, 37 – were members of two hacking efforts, it is claimed. Their activities are said to have been known under several names: APT-41, Winnti, Barium, Wicked Panda, and Wicked Spider.
During various operations, the crews would break into company networks and steal source code, drop ransomware, or install crypto-mining code, it is claimed. They were also tied to state-sponsored operations to do things like spy on pro-democracy politicians and activists, according to the Americans.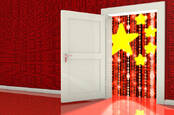 Chinese database details 2.4 million influential people, their kids, addresses, and how to press their buttons
READ MORE
Jian, Quan, and Fu are said to be in the employ of Chengdu 404, an organization in China that, sometimes with the help of others, attacked private enterprises and government operations, it is claimed. This included, we're told, breaking into networks to steal blueprints and deploy ransomware or crypto-miners, to targeting governments for surveillance (as you might have gathered, Chinese hacking operations have a lot of gray areas between private and public sector activity.)
Among the group's specialties were supply-chain attacks where software providers were targeted and then had their code modified to contain backdoors.
In the case of Zhang and Tan, prosecutors said the duo would break into the networks of game companies and then steal in-game currency or player items that were then resold – in many cases by the aforementioned Malaysian duo, it is claimed. They were not the only ones doing this, apparently: it is said that, in addition to other members of their crew, Zhang and Tan knew of rival hackers targeting the same games developers, and attempted to target their competitors as well.
Should any of the five be brought to the US, they will face charges including computer and wire fraud, unauthorized access to a protected computer, damaging a protected computer, identity theft, and money laundering. As we mentioned earlier, however, that's probably not going to happen.
"Ideally, I would be thanking Chinese law enforcement authorities for their cooperation in this matter and the five Chinese hackers would now be in custody awaiting trial," said US Attorney General Jeffry Rosen.
"Unfortunately, the record of recent years tells us that the Chinese Communist Party has a demonstrated history of choosing a different path, that of making China safe for their own cyber criminals, so long as they help with its goals of stealing intellectual property and stifling freedom." ®