Workday targets 'procurement software' market after bumper Q2, but boss man is big on ambition, thin on detail
Customers clearly looking to simplify buying into supply chains – but the market is tougher than it looks
Workday's boss got a chance to flex his jaw muscles this week at Deutsche Bank's 2020 Global Technology Conference, using that platform to talk up his interest in the market for procurement software.
Following the 2019 buy of cloud-based procurement services slinger Scout RFP for $540m, Workday, which recorded a 19.6 per cent year-on-year rise in revenue for Q2, wants to dive deeper into the space, said CEO Aneel Bhusri.
"Scout was a quick win on the procurement side. Our first insight was to recognise that procurement had become its own system of record... And that was really the driver of the Scout acquisition. We want to be best in class, best in breed in procurement. We're not there yet."
Taylor McGinnis, equity research analyst at Deutsche Bank, queried the perceived lack of a "procure to pay" suite, and questioned the CEO on the firm's "procurement strategy overall".
Bhusri said selling procurement as a "standalone suite" was still a few years away. "In the meantime, a stronger procurement story makes our financial story that much better. In most cases procurement reports up to the CFO. The CFO does not want to piece together multiple products from multiple vendors."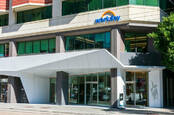 What does Workday think gives it the edge in COVID crisis? 'We're not an ERP vendor,' says CEO Bhusri
READ MORE
That may well be the case, but finance teams are not the only users of procurement software. While it's true procurement often reports into finance, there is a whole procurement profession to contend with and it has its own agenda, professional body and tools.
Analysis
Ariba, Tradeshift, Coupa, Basware, GEP are all known because they bring with them global networks of vast numbers of suppliers already on board, taking much of the grunt work out of procurement. Other specialists exist in supply chain analytics, risk and performance, notably GT Nexus, which ERP vendor Infor snapped up in 2015.
While Workday sets its sights on procurement software, others have not been standing still. Earlier this year, nearly eight years after buying Ariba, SAP announced integrated UI, data management and analytics across its business applications and procurement software. With a vast army of customers deeply embedded in SAP's core ERP lineup, this will matter to procurement pros who also have to work with people who manage business units, not just their CFO masters.
It may be a small point, but Workday could also come to regret the moniker of its acquisition target. It picked Scout RFP long after Requests For Proposals went out of fashion.
When procurement people want innovative suppliers, they go and find them. When they want cheap prices, they aggregate and automate. If they want better performance, they need to know more about the suppliers they have. RFPs don't help with any of these things.
As the post-COVID world looks set to rebuild its supply chains along the lines of risk and proximity, procurement people will be looking to choose the right software tools. Unfortunately for Workday, its own is one of many. ®