This article is more than 1 year old
Relics of the past to be found in Oxford: A medieval friary, a Saxon wall, and... Windows 7
Shopping paradise forgot to pay for more support
Bork!Bork!Bork! Microsoft has many operating systems that simply refuse to die. MS-DOS can be found here and there. Windows XP continues to hang around like a toxic airborne emission. And Windows 7? Despite the software maker's best efforts, it lingers on.
Microsoft finally pulled the plug on all bar the embedded versions of Windows 7 earlier this year and gave enterprises the option of paying for a few more years of security fixes if they were still wedded to the elderly OS.
The message, alas, appears not to have reached the ears of the Westgate Shopping Centre in Oxford, which, despite a costly and flashy refurbishment a few short years ago, appears to have somehow failed to come up with the readies to either pay up for some extra support or just put the poor thing out of its misery.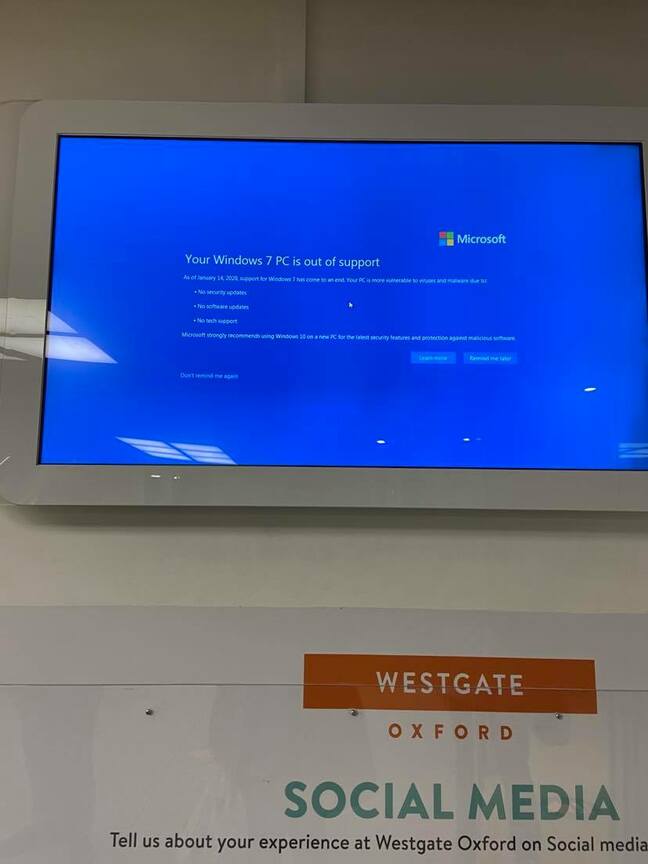 The screen, located near the parking payment machines, was spotted by eagle-eyed Register reader Bob Kentridge, who told us the display was normally slinging ads or, in a sign of the times, exhorting passersby to keep their distance and slap on a mask.
However, when he snapped it, the thing was pleading for an update and ensuring all those who pass know that Windows 7 has reached the end of the road.
The original brutalist block of a shopping centre opened in the early 1970s, a time of brown, beige and orange. It received a substantial redevelopment over 40 years later, and reopened in 2017 to enjoy a few short years of retail excitement before the wheels came off the world in 2020.
Interestingly, the redevelopment also uncovered an impressive array of medieval architecture by virtue of being on the site of Oxford's Franciscan Friary. The shopping centre has published a handy archaeology trail for anyone able to pull themselves away from the delights of Primark and Ann Summers.
The trail into the past sadly does not include a visit to Microsoft's greatest hits. You'll need to go to the car park for that. ®