This article is more than 1 year old
.UK overlord Nominet tells everyone not to worry about 'distorted' vote allocations in its board elections
Errors had no material effect on the outcome, promises the, er, board chairman
Nominet has been forced to admit it wrongly calculated election results for its board of directors in 2018 and 2019.
The operator of the .UK domain-name registry insists, however, the errors wouldn't have had any impact on the actual results, and it will proceed as normal with this year's elections, due next week. The news was met with incredulity by Nominet's members, who have long complained about elections at the organization.
It may come as no surprise that Nominet has so far refused to make available the data behind the election results to prove there was no impact.
In a further irony, the chairman of Nominet, Mark Wood, was quoted as saying he "wishes to reassure members that the board has been thoroughly briefed on the voting allocation issue and is confident that the impact in 2018 and 2019 was not material." But Wood himself was appointed to the position by board members who were selected during elections now under scrutiny, and so faces an obvious conflict of interest.
Concern that the outfit may be attempting a cover-up has been heightened by the fact that it made no mention of the voting irregularities until one member noticed changes in the 2020 figures one week after they had been published and pushed for an explanation. It then took Nominet three weeks to respond.
"While checking the voting rights calculations this year ahead of the director elections and AGM, we identified an error that distorted the allocation of votes in 2018 and 2019, leading to an uplift of the votes for those taking part," reads a statement from Nominet that was not published but sent privately to members.
Coding change
It went on: "The error had its origin in the treatment of multiple part-payments for domains. As a result of a coding change in April 2017, members making multiple part payments received a higher voting allocation than was appropriate in 2018 and 2019. This was corrected before the 2020 voting rights were published."
In reality, in the 2018 and 2019 elections, as many as millions of extra votes were allocated to members as a result of the miscalculations, the vast majority to a small number of the largest companies that already had a disproportionate influence on Nominet as a whole. While most Nominet members receive an average of 5,000 votes each to cast in board elections, the largest registrar, GoDaddy, had 5.2 million in 2019; since reduced to 3.6 million this year.
Nominet's complex, and disliked, voting system allocates votes to its members according to the number of domain names said members – in reality, commercial companies that sell domain names – hold. These votes can then be assigned to candidates in board of director elections – candidates with the most votes assigned to them win a seat. Bigger registrars tend to therefore get allocated more votes to cast.
Efforts to make this process fairer have led to a series of increasingly complicated compromises that members have repeatedly complained they no longer understand and can't calculate themselves; making everyone entirely reliant on Nominet's staff to carry out the calculations for them.
As things stand [PDF], 25 per cent of all votes are distributed equally among members, giving them each roughly 1,300 votes. Then, additional votes that account for 75 per cent of the total votes are allocated on top of that according to the number of domains a registrar holds.
But things get even more complicated than that: the number of members varies from year to year; many members fail to vote; the votes are calculated according to Nominet's financial records based on paid-for domains – except for when Nominet made an exception for millions of domains it gave away for free as part of the controversial launch of second-level .uk domains.
There are also two voting caps in an effort to make voting more equitable: no one member can cast more votes than three per cent of the total votes cast in board elections, and 10 per cent when it comes to voting on other business. And there is preferential voting in which candidates for board seats are knocked out in different voting rounds.
It is this three-per-cent cap that, we're told, saved Nominet's bacon in 2018 and 2019. Without it, and with extra votes erroneously allocated to certain members, the board election outcome could have been very different. It doesn't quite inspire confidence.
Been here before
This isn't the first time Nominet has miscalculated the votes in a board election. During an intense period in the organisation's history when multiple board members were elected promising to bring in accountability and transparency, before being forced to resign, several candidates asked for the election to be re-run when the company hired by Nominet to calculate the results admitted it had made a calculation error.
"Some members now have more votes than they thought they had – and may not have voted at all," explained Andrew Bennett who at the time was standing as a non-executive director and was also the person who spotted the unusual changes in voting rights last month.
Despite all the complexities, critics argue the voting system doesn't achieve what it is supposed to: a fair election and policies that work for all members, not just the largest. The largest three companies have shown an extraordinary ability to be repeatedly voted onto Nominet's board, and the company has repeatedly pushed policies that arguably benefit its largest members to the detriment of small registrars and the UK public itself.
Industry capture
Back in 2013, former Nominet staffer Emily Taylor warned that the organisation had been captured by its largest members despite the overly complex voting structure. As the company's general counsel for over nine years, Taylor had an extraordinary insight into how Nominet actually functioned.
She wrote a blog post that year titled, "Has Nominet UK been captured?" that read in part: "Pareto's law suggests that 20 per cent of your customers will provide 80 per cent of your income. In Nominet UK's case, that 80 per cent of income is provided by less than 1 per cent of its customers. More worrying, the top two – 123reg and 1&1 Internet – provide nearly half the company's turnover. That's a lot of commercial power in the hands of a few people, one of whom has their CEO on the board." That situation has not changed in the intervening seven years.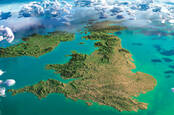 With a million unwanted .uk domains expiring this week, Nominet again sends punters pushy emails to pay up
READ MORE
It's also worth noting that Taylor herself left Nominet and took the company to an employment tribunal where it eventually found she had been wrongfully terminated after she raised concerns internally over how the organisation was misleading the public about its reform efforts.
The reality is that the top three registrars, armed with their board seats, have an effective veto over the organisation's decisions. Those same companies have also been repeatedly criticized in recent years for their handling of .uk domains, including invoicing people for domains they never ordered, adding domains to people's accounts without their permission, and literally just this week selling valuable domain names without permission.
In every case, Nominet has turned a blind eye and refused to investigate.
In a statement, Nominet told us the aforementioned three per cent cap, in which a single member cannot cast more than three per cent of the total votes cast in the election, prevented the extra votes allocated from affecting the outcome of the board of directors election.
"We have assessed whether the uplift could have had an impact on the outcome of elections or resolutions in 2018 and 2019," the biz told us. "This was not the case as they were not of sufficient scale to affect the results and the large registrars' votes are subject to a three per cent cap."
It went on: "For the election in 2019, the election scrutineer was able to remodel the election using recalculated voting rights information. Their analysis supports our conclusion that the voting rights error did not affect the outcome." ®