This article is more than 1 year old
Not content with distorting actual reality, Facebook now wants to build a digital layer for the world
Data-harvesting test pilots to roam the streets wearing AR glasses and little lanyards explaining that you're being recorded
By permitting conspiracies and blatant falsehoods to circulate unchallenged, Facebook made denial of reality a nasty feature of actual reality. And now the Silicon Valley juggernaut has decided it wants to figure out how to build a digital layer that overlays the real world.
News of the effort came at Facebook's annual Connect conference during which the biz discused its virtual-reality roadmap.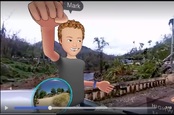 Zuck shows Virtual Empathy by visiting storm-wrecked Puerto Rico in VR
READ MORE
As Facebook explained here, its vision involves glasses that "enhance your surroundings with a 3D layer of useful, meaningful and contextually-relevant information. And unlike the devices of today that force you to choose between your screen and the world around you, these glasses will blend into the flow of everyday life."
Facebook doesn't know how to build that overlay. But it has built a prototype of the glasses.
Dubbed Project Aria, the techno-specs are packed with cameras and microphones to record the world as wearers see it.
Facebook sees the goggles as a smartphone killer, and asks us all to imagine "a time when we have all the benefits of connectivity (and more), without the need to keep our heads and our eyes down, looking at a device.
Innovative technology with fashion-forward style to help people better connect with friends and family.
"Imagine calling a friend and chatting with their lifelike avatar across the table. Imagine a digital assistant smart enough to detect road hazards, offer up stats during a business meeting, or even help you hear better in a noisy environment."
But Facebook isn't sure it is on the right track, so forget getting your hands on Aria any time soon. The antisocial network said the gizmo is a "research device" that "will use sensors to capture video and audio from the wearer's point of view, as well as eye movement and location data to help our engineers and programmers figure out how AR can work in practice."
Around 100 Facebook staffers in San Francisco and Seattle will don the glasses and go into the real world to collect data. Facebook promises they won't go into restaurants or shops without written consent, and will never record in "sensitive areas like restrooms, prayer rooms, locker rooms, or in sensitive meetings and other private situations."
The device will shine a white light to indicate when Facebook's AR explorers are exploring, and they'll wear a lanyard explaining what they are up to. That lanyard will include a URL that offers more info about Aria, which sounds like a great idea at a time we're all being encouraged to stay six feet apart.
Facebook has outlined data hygiene practices to preserve the privacy of anyone who is recorded by its roving recorders. Faces and car licence plates will be blurred, hopefully. Permissions will be sought. Encryption will be applied. Promises are just words on a screen.
Facebook hasn't suggested a time frame for Aria becoming a product. But it has said that in 2021 it will deliver Ray-Ban branded smart glasses, and that they'll "combine innovative technology with fashion-forward style and help people better connect with friends and family."
Also new is a next-generation Oculus Quest VR headset, now at 1832 x 1920 pixels per eye, faster Qualcomm innards, 6GB of RAM and a price – US$299 – that's $100 lower than previous models. Global manipulation of populations not included. ®