This article is more than 1 year old
What did they do – twist his Arm? Ex-Qualcomm senior veep joins SiFive as CEO, RISC-V PC for devs teased
Vector-math processor core for high-perf computing promised, too
Ex-Qualcomm exec Patrick Little will today take over as CEO and president of Arm-wrestling RISC-V chip design upstart SiFive.
Little will replace Dr Naveed Sherwani, who was appointed in mid-2017 and will remain as chairman of the board. Little was a senior veep at Qualcomm overseeing its push into the automotive space. Prior to that he was an SVP at Xilinx and CEO of eASIC, among other roles over the past 30-plus years after graduating with an electrical engineering degree.
The new boss said the startup will continue to provide "a unique platform for addressing the domain-specific design and compute challenges our customers are facing today."
This is a crucial time for SiFive, which was founded five years ago. In August it bagged $61m in series-E funding, bringing its total investment to $190m. It also formally launched its custom design wing as Openfive last month. And its flexible approach to designing and licensing RISC-V chip technology has encouraged Arm to make its own licensing program a little more less cumbersome and rigid. That's the same Arm set to be acquired by Nvidia, a move that has the semiconductor industry wondering if system-on-chip makers will switch to another architecture to avoid the GPU giant. More than ever, SiFive needs to be looking its best.
A lot of SiFive's designs, including its CPU cores, are open source. If you want to license its blueprints, you can – and Samsung is the latest big name we've heard doing so, for the 5G engines in its next-gen smartphones. In other words, silicon engineers are aware of the startup's work, and are in a position to weigh up the pros and cons of using RISC-V.
Software engineers, on the other hand, aren't, by and large. What SiFive, in your humble hack's opinion, needs to produce is the RISC-V answer to the Raspberry Pi, which is an Arm-Broadcom affair. It needs a development platform that's reasonably spec'd and priced that programmers can use to explore building and running code for RISC-V CPU cores and related tech, and see that it's really not so scary or alien compared to other platforms and architectures, and judge its benefits for themselves. Yes, there's Qemu to boot something like RISC-V Linux in a terminal, and it's great, but it's not quite the same as having hardware powered on in front of you.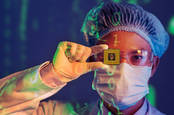 India selects RISC-V for semiconductor self-sufficiency contest: Use these homegrown cores to build kit
READ MORE
SiFive used to sell a Linux-capable developer board dubbed the HiFive Unleashed that included 8GB of RAM, its homegrown 64-bit quad-core RISC-V system-on-chip (with a bonus CPU core for maintenance tasks), gigabit Ethernet, flash memory, microSD card support, and a $1,000 price tag. An expansion board with PCIe, SSD, and SATA interfaces cost $2,000. It also sold a $60 32-bit single-core dev board called the HiFive1.
Meanwhile, Microchip is now selling its PolarFire SoC Icicle Kit, which uses a five-core SiFive system-on-chip design similar to the HiFive, with 2GB of RAM, 8GB+ of flash, a load of IO, and a modest FPGA, for $500.
Perhaps sensing that it needs something a little more accessible on the market, SiFive plans to at the end of October announce what it's called the RISC-V PC. This will be powered by its FU740 system-on-chip – that's presumably featuring something along the lines of its 64-bit five-core U74-MC processor – and include suitable IO interfaces to be used as a desktop machine. We're imagining it therefore including PCIe, SATA, and so on.
"The FU740 combines a heterogeneous mix+match core complex with modern PC expansion capabilities and form factor with a suite of included tools to facilitate broad professional software development," SiFive said in a statement. The goal is to "enable professional developers to create RISC-V applications in a bare-metal environment, from OS to end-user application," which sounds like our cup of tea and addresses the above concerns.
SiFive will also show off a RISC-V processor core that features the architecture's vector-math extension. Dubbed SiFive Intelligence, this tech "is slated for production use," we're told, and will be aimed high-performance systems.
The RISC-V PC and the vector-accelerating CPU blueprints will be disclosed at the Linley Group Fall Virtual Processor Conference 2020 from October 20. Also, the RISC-V Global Summit was held online earlier this month: you can watch all the talks here to get up to speed on the architecture. ®
Bootnote
Speaking of the RISC-V PC, in the 1990s, Britain's answer to Apple – Acorn Computers – launched the RiscPC, an Arm-powered multi-processor desktop machine. Roughly 25 years on, we've got a RISC-V PC on the cards, using an Arm rival architecture.