This article is more than 1 year old
How do you solve 'disruption' at the UK border after Brexit? Let's call Peter Thiel! AI biz Palantir – you're hired
Oh, and Smart Freight System software in beta by April... will be used from December. WCGW?
The UK government has enlisted controversial US AI biz Palantir in a bid to "mitigate and manage potential disruption at the border" as the country's departure from the EU comes into force.
According to documents seen by The Guardian, Palantir, co-founded by Trump-backing Peter Thiel, has been contracted by the Cabinet Office to build a Border Flow Toolkit.
The Cabinet Office is charged with coordinating the UK's preparedness for border, immigration and customs arrangements as the rules change when the UK officially exits the Brexit transition agreement on 31 December 2020.
In the US, Palantir, which is contracted to US Immigration and Customs Enforcement (ICE), has created an Analytical Framework for Intelligence to pull data from federal, state and local law-enforcement databases to create individual profiles and citizens thought to represent a risk are tracked. The database includes personal details, social connections and travel histories.
According to information leaked to The Guardian, Palantir was contracted to build the Border Flow Toolkit on 11 September, having completed a "successful test connection made to Home Office system with Palantir technology" a few days earlier.
The document states that the Cabinet Office is "currently working with Palantir to demonstrate [its] data connector can share information from the [Home Office] and [Her Majesty's Revenue and Customs] systems with minimum lag".
The Cabinet Office is currently "processing commercial elements" for Palantir to provide a data-sharing platform dubbed "Foundry".
"Palantir [is] delivering Foundry service and data infrastructure to allow information to be shared from multiple systems and integrated onto a platform," the document explained.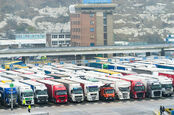 Brexit border-line issues: Would you want to still be 'testing' software designed to stop Kent becoming a massive lorry park come 31 December?
READ MORE
It also promises to "embed" Border Flow Toolkit in the Borders, Immigration and Citizenship System. "The product must deliver the situational awareness and predictive capability needed to mitigate and manage potential disruption at the border," the documents added.
The Cabinet Office has not responded to The Register's request for comment.
'Smart' Fright (typo but we're keeping it)
The Border Flow Toolkit is not the only Cabinet Office-led technology project pinning its hopes on IT teams meeting their milestones to avoid border chaos as the UK leaves the EU in a practical sense at the end of the year.
According to Bloomberg, the Cabinet Office's Smart Freight System, which allows truck drivers and logistics firms to pre-check paperwork for a border cross in the hope of reducing delays, will only go into beta testing in mid-December. It will not be complete before April, transport lobby group Logistics UK said in a statement.
But, in news to anyone who has loaded beta software, the government reckons the system will be working in December. ®