This article is more than 1 year old
Alibaba wants to get you off the PC upgrade treadmill and into its cloud
Pitches tiny 'cloud computer' that streams apps and OSes over WiFi and hooks up to USB-C displays
Alibaba has teased a tiny PC replacement that will stream apps from its cloud.
While Alibaba has not released many details about the device it has made its intentions plain: during the device's launch at the company's Apsara conference execs made constant references to the pain of living on a PC upgrade treadmill and the many virtues of cloud.
The PC replacement, dubbed "Wuying", runs an embedded Linux and a "proprietary app-streaming protocol" that lets users "access to the personal cloud computer and access to licensed apps and programs across platforms such as Windows and Linux."
Latency is promised to be less than 70 milliseconds. The cloud instances powering the devices can offer up to 104 vCPUs and 1.5TB of memory, a handy spec for a workstation never mind a PC.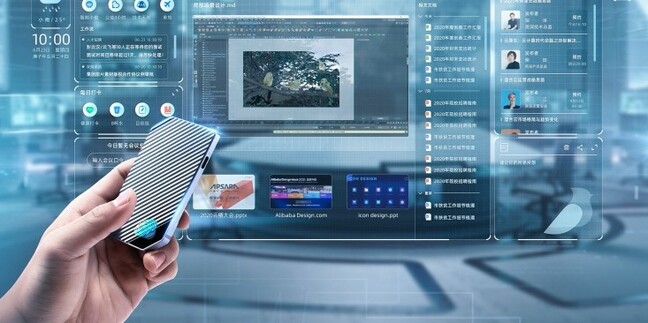 Alibaba's Wuying 'cloud computer'
USB-C is the key to the device as Alibaba images a single cable will power Wuying and connect it to a display. The company hasn't explained how one might attach a keyboard and mouse.
Demo videos featured bright young things wandering through the streets, pressing a button on a Wuying and then peering at stuff happening on futuristic transparent tablet computers.
Which may have been DemoMagic™ as Wuying does not have a battery and WiFi handles network connections.
The idea of a small device that streams a PC experience resembles thin clients, desktop virtualisation and Teradici's PCoiP protocol. All are niche concerns notwithstanding COVID-19 causing a spike in demand. But all are also offered as tools for businesses that need locked-down devices for regulatory or cost-saving reasons. Alibaba has a different experience in mind.
Reg readers may also recall Intel's PC sticks, very small form-factor PCs designed to be mated to monitors with their HDMI plugs, but also requiring an external power source. PC sticks have found admirers among digital signage providers, but have not set the world on fire.
Alibaba has offered the devices to businesses first and said consumer editions will follow. But until it offers more than teasers and the not-very-detailed images it's offered so far, it seems wise to reserve judgement. ®